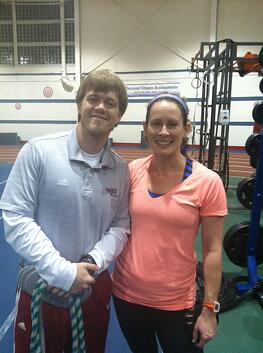 There are many benefits that come with working out in a group setting, ranging from social to helping you push through the tough parts of workouts. NIFS Group Training not only promotes this but also gives you the individualized workouts and attention that you need to reach your specific goals. Read why Maura, a longtime group training participant, chooses to participate in group training month after month.
SHARE YOUR STORY OR A BIT ABOUT YOURSELF IN A FEW SENTENCES:
I used to say I worked out so I could eat whatever I wanted, but somewhere along the way that changed. Now I work out because I truly enjoy it and I feel better mentally and physically when I am consistently working out. I like a variety of workouts—strength training, running, yoga, and HIT, etc., and I love that I have so many options at NIFS.
NIFS PROGRAM YOU PARTICIPATED IN: Group Training
WHY DID YOU DECIDE TO START GROUP TRAINING?
I liked the idea of having a personal trainer, but still wanted a group setting. I attended other group fitness classes but felt like I needed a more structured program so that I'd see improvement in my overall strength and fitness.
SOMETHING YOU HAVE ENJOYED:
I love the accountability of group training. Alex is always expecting me to be there, so I can't skip. I've also turned into a morning workout person. I love starting my day with my workout, as opposed to doing it after work or during lunch.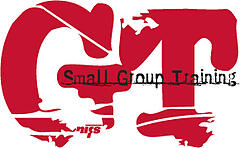 SOMETHING YOU HAVE LEARNED OR SOMETHING THAT SURPRISED YOU:
I've learned not to worry about a workout or the challenges it may bring because I'm stronger than I realize. I'm constantly surprised by what I'm capable of and how I improve week to week and month to month.
FAVORITE WORKOUT FROM ONE OF THE TRAINING SESSIONS?
It's hard to pick a favorite workout; I love all of it. I'd have to say as long as it doesn't involve rowing, the Airdyne bike, or rear foot elevated squats, I'm happy.
WHAT ACCOMPLISHMENTS HAVE YOU ACHIEVED DURING YOUR TRAINING?
I've lost 5% body fat, from 23% to 18%, and I can finally do a few unassisted pull-ups. Overall, I'm a lot stronger*.
*Weight loss claims and/or individual results vary and are not guaranteed.
TIPS YOU HAVE LEARNED ALONG THE WAY FROM YOUR TRAINER?
Make sure to eat enough protein—after your workout and all day.
Correct form is more important than heavier weights or getting it done fast.
Your trainer always has a way to make something harder and more exciting.
Beware of the sneaky smile on your trainer's face…you're about to do something you never would have thought of yourself.
HOW DO YOU STAY MOTIVATED?
Seeing results motivates me! The challenge of the workout is motivating too, physically and mentally—knowing that I did it.
ANY OTHER THOUGHTS YOU WISH TO SHARE:
Group Training has been a key factor in helping me achieve my fitness goals. I feel confident that it will continue to help me progress and reach new goals in the future.
Regardless of fitness level or goals, almost every member at NIFS could benefit from Group Training or enrolling in a NIFS program. If you are interested in trying a small group training or HIT session contact us to get started!
This blog was written by Stephanie Kaiser, NIFS Health Fitness Specialist and co-coordinator of the NIFS Mini-Marathon Training Program. Meet our bloggers.