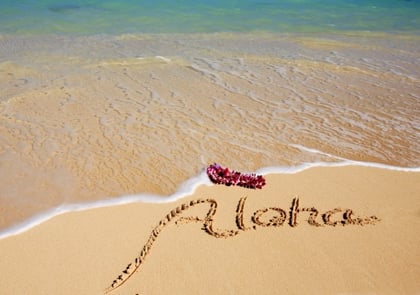 A few summers back, I spent 5 fantastic days in Maui with my wife and her family, and as you can probably imagine, I had the best time of my life there! I have been so lucky to be included on my wife's family vacations and have had the opportunity to visit some amazing places, each one better than the last. For that, I am extremely thankful!
Having the opportunity to travel is a pretty new concept to me, and the memories that are made and the realignment after some time off are priceless. I am beginning to believe that taking time to travel and explore new places ranks pretty high on the wellness scale, and I would urge anyone to make it happen. Maybe it's not Maui, but do make it a goal to travel to a new place often and experience what the world has to offer.
Maui provided so many new experiences for me, some very surprising and unexpected and some life-changing. For example, wild chickens run around all over the place and are not that afraid of the human folk. SPAM isn't discontinued; it thrives in the islands (still scratching my head on that one). And oh, jet lag is truly a thing; I never put much stock in the jet lag phenomenon, but it's legit.
What I will take with me forever after this amazing, probably once-in-a-lifetime trip, are some of the life habits of the true islanders. Now of course it is still America, and there are those who take the island for granted and act as many do here in the mainland. But those who are native to the island or who are truly captured by the immense spirit of its origins and traditions, these are 5 habits they practice. I think anyone can benefit from them, no matter where they are in the world.
Aloha the One You're With
Easily the most recognizable Hawaiian term, aloha has a lot more meaning than simply "hi" and "bye." Hawaii is not the Hi and Bye state! Aloha means love and affection, as well as hello and goodbye. I think it's a very good thing that when you see someone you let them know you care about them, and when they must go, you remind them that you love them. Make it a point to tell the ones who mean the most that you love them the most. And while you're at it, share a little love with a stranger by simply holding the door for them, or buying that cup of coffee for the next person in line. Saying Mahalo, or thank you, for everything to everybody can go a long way toward making someone's day. Bottom line: share the love!
Pau Hana: Make Time for Recovery
Work is done (pau hana); it is time to chill! Hawaiians work hard so they can relax even harder, and how can you not find relaxation in a place like that? But we usually don't find time to relax and recover; instead we find more things to do, work out even harder, and not get a good night's sleep of 7–8 hours a night. Taking time off, in this case from exercise, should be viewed as part of your training. When you find times throughout your day to relax, even for a few minutes, it can add productivity to your work day and help keep you fresh for family time when you get home as well as help lower stress levels. Now we may not be able to stretch out on the beach for a nice long nap every day, but we can find ways to chill out and retool that work for us.
Ono Grinds: Good Nutrition That's Delicious
Good food (ono grinds) can be found all over Maui and includes items you may not find anywhere else. Have you ever had eggfruit? Neither had I until I visited Maui, and it is delicious. You can find fresh local fruits and vegetables as well as lean meats that are native to Hawaii all over the place there. Hawaiians take their food very seriously, I found. And I can argue that you can find the same quality of foods near you. You may have to skip out on the eggfruit for now, but there are plenty of markets, even year round, that can supply you with fresh fruits and vegetables. I don't think I need to reiterate the importance of choosing foods that are close to their source; we've covered that many times in the past. Find a market and go shop there! While you're there, pick up something you've never tried before and go for it. You never know; you might find your new favorite food. Hawaiians take pride in their food and how they enjoy it, as should we.
Hoike ia & Nani: Adventure and Beauty
Search for hoike ia (adventure) and find nani (beauty) whenever you can! Some of my fondest memories of my trip were long, relaxing walks along the ocean to soak up and be mesmerized by the beauty that surrounded me. Breathtaking views of sunrises and sunsets, whales breaching, and turtles swimming were served up in abundance. It was impossible not to become entranced with it all and find yourself searching your soul and losing yourself in the moment. So many opportunities for adventure and being surrounded by nature were available to me daily, and I took advantage of every minute. From snorkeling and whale watching, to watching the sunrise at the top of the largest volcano on the island and then riding a bike down the side of it, there were so many adventures and so much beauty to be had.
You may not have a volcano right outside your back door, but there is beauty and adventure to be had anywhere, you just have to take time to act on it and then appreciate it. This beauty and adventure will not be found in the television or on Facebook, you have to get out there and seize it.
Ohana and Moolelo: Family and Tradition
I learned the Hawaiian translation for family (ohana) early in the trip and found that ohana means a great deal to the people who live there. I couldn't help but feel the overpowering sense of family and moolelo (tradition) with the people who live on the island. I truly felt as if I was part of the large Hawaiian ohana by the way I was treated by most. We attended a luau during our time there and the tradition that was on display was captivating. We were treated as if we had lived there for years, and they truly felt that we were a part of the family, even if it was just for that night. That's a feeling that is pretty rare in most places, but it doesn't have to be. I was pretty jealous that they make such a huge deal about their heritage, traditions, and ohana that we here in the mainland just don't do.
If you take anything from this post, please make your ohana the most important thing in your life. Don't let a day go by without telling those people that make up your ohana how much they mean to you. These most important people in your life may not always be here; cherish and celebrate them with your own ohana mau moolelo (family traditions) as much as you can.
***
My trip to Maui has left me with long-lasting changes to the way I view the world and treat each day. And although I am describing takeaways from the islands, you can find inspiration and meaning anywhere. It will all be determined by the way your eyes perceive what you are looking at. Find the beauty, search for some adventure with your ohana, take time to relax and recover while enjoying some ono grinds, and spread the love!
Mahalo and Aloha!
This blog was written by Tony Maloney, ACSM Certified Exercise Physiologist and Fitness Center Manager. To find out more about the NIFS bloggers, click here.