Remember bringing your report card home, nervously wondering how your parents were going to punish you for the slacking grades? Parents, remember opening that report card and trying to figure out how to help your child realize the importance of doing well in school and punishing them for their low grade? One idea I never heard from my parents was, "Hey let's give exercise a try and see if it helps to improve their grades!" But it might be just the thing that helps.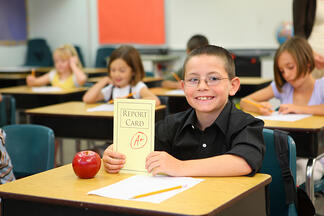 The Evidence Is In: Active Kids Are Better Learners
For years, parents have been struggling to find ways to get their children focused and driven to work hard in the classroom. Being a former coach, I have seen many kids who were motivated to work hard in their sport; but when it came to their studies the motivation seemed to be lacking. Practice would be filled with endless complaints about teachers, too much homework, or the test they had the next day. But there is a lot of research coming out saying that with just 20 minutes a day of physical activity, your child can improve their grades in school.
In a recent study, after just 20 minutes of walking around the playground, kids tested higher on a reading test than the other students who just sat inside and watched TV. Due to the development of brain cells in aerobic exercise, improvements are made in attention, concentration, focus, problem solving, behavior, and memory. So why not help kids do better in school by simply spending just 20 minutes with them doing some sort of physical activity?
Ways to Get Kids Moving
Here are some quick ideas that I came up with to challenge your kids to get out of their pajamas and into action:
Yard games: Have your kids play tag with the other neighborhood children, or maybe a quick round of catch with the football or baseball. If someone has a trampoline, spending 20 minutes jumping on that could be both fun and beneficial. You could also challenge them to a jump-rope contest or send them out to climb around on the swing set.
Sports games: Go out and shoot some hoops or challenge them to a little one-on-one. You could grab a soccer ball and kick it around the yard, or maybe go for a light jog together. And who doesn't like a bike ride around the neighborhood?
Inside activities: Try setting up an obstacle course in the basement that makes them climb, run, jump, crawl, etc. If you have a Wii, the Wii Sports program is both fun and challenging, or you can also exercise through dance.
Other ideas: Some other things that I thought of would be to walk the dog around the block, rollerblade to school, create a fun circuit that they could go through, take your kids to swim at the local pool, and even try letting them invite a friend along!
With a short, fun workout, you may see your kids' grades improve! Be creative and find ways that allow you both to get your bodies moving and get your heart rate up. Give it a try with your kids and see how they do!
This blog was written by Amanda Bireline, Health Fitness Specialist. To find out more about the NIFS bloggers click here.