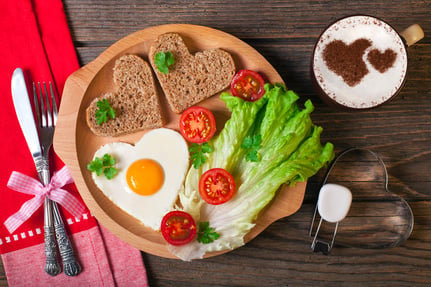 When it comes to nutrition and your heart, the things you hear in the news can be very confusing:
Don't eat eggs.
Eggs are good for you.
Coconut oil is amazing and should be in everything.
Coconut oil is full of saturated fat and is bad for your heart.
Fat-free dairy is the only kind you should eat.
Fat from dairy is good for you and your heart.
A lot of time there is a study that comes out saying something isn't good for us, and then there is one that follows that says it is good for us. Hopefully after reviewing some of the tips below, you will feel more confident in making the best nutrition choices for your heart.
Remember the Basics
When it comes to heart health, we know that unprocessed whole foods are best. These foods are higher in fiber, which is helpful in lowering cholesterol. They are also lower in added sodium and preservatives that can affect your blood pressure.
As much as possible, aim to eat foods that are fresh and not packaged or processed. This includes fruits and vegetables, lean meat and eggs and beans, milk and yogurt with minimal or no additions, and whole grains such as brown rice, quinoa, sweet potatoes, and whole-wheat pasta. At each meal aim to incorporate at least three of these food groups. At snack time, choose two food groups that have some fiber and protein to help keep you full.
Everything in Moderation
Eggs, coconut oil, and dairy can definitely all be a part of a balanced diet. However, if you are eating a dozen eggs per day, putting scoops of coconut oil in everything, and consuming dairy all day long, that can affect your health and your heart. Anything that you consume to excess will provide excess calories, which leads to excess fat being stored in the body if it isn't burned off.
Therefore, remember to enjoy all foods, but in moderation. One or two eggs per day at breakfast is ideal. A teaspoon of coconut oil to sauté your veggies in is an appropriate serving size, and 3 servings of dairy per day is recommended.
The moderation rule applies to not only these foods but also sweets, higher-fat foods, and alcohol. Learn to enjoy these foods in moderation, with the majority of your choices coming from whole and unprocessed foods, and you will keep your heart healthy.
Pay Attention to Details of Health News
If you are watching a news story or if you see an article on the internet that is talking about the newest trend in nutrition, dive a little deeper. Check to see whether this was a major study that was done by a reputable source. Or is it just an article written by someone who doesn't have the credentials that are important when trying to come up with recommendations for health.
Something else to look at is the sample size of the study and how long it was. Did they only have a handful of subjects do the testing, and was it for a short period of time? If so, then this isn't something you can rely heavily on. Studies that have very large sample sizes (think thousands of participants) and go on for years (20+) are the ones that most nutrition recommendations come from, and these are the ones you want to pay attention to. Otherwise, remember to stick to the basics and enjoy a balanced diet with all foods in moderation.
This blog was written by Angie Mitchell, RD, Wellness Coordinator. To find out more about the NIFS bloggers, click here.