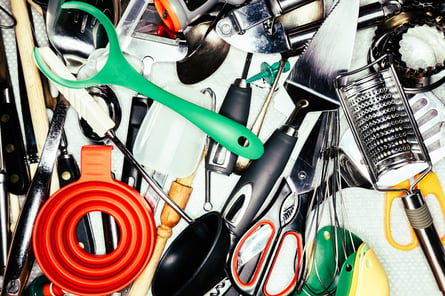 When my husband and I got married and combined our kitchens, he was appalled at the amount of gadgets that filled my drawers and cabinets. I have always loved the single-use items such as the pineapple peeler and corer, the avocado slicer, the strawberry-top remover, the banana case keeper—and the list goes on and on and on!
If you are a minimalist and don't want your drawers and cabinets overflowing with kitchen items, hopefully you can use this list of five helpful gadgets to help with balanced eating.
Pasta Portion Control Container
A serving of cooked pasta is ½ cup, but the average person eats around six servings at a time! This handy pasta portion cooker will help keep those pasta serving sizes in check. Use the basket to portion out 1–3 servings of your favorite smaller pasta noodle. Then place the basket in boiling water; when it is ready you just lift the basket out and the water will drain right into the pot! Then just add your favorite protein and sauce and enjoy. If you prefer skinnier noodles such as spaghetti or fettuccini, there is a hole on the basket to help measure the correct amount. Look for the pasta portion control container here.
Stainless Steel Vegetable Steamer
One product that I use almost nightly is the stainless steel veggie steamer. It is super easy to plop the steamer in a pan with a little water in the bottom. Fill it with your favorite veggie like broccoli, carrots, or cauliflower. Then cover with a lid and cook for around 10 minutes. Perfectly steamed veggies are the result with almost all of the nutrients intact since they aren't submerged in water or cooked until they are mushy. You can purchase the vegetable steamer here.
Salad Dressing Shaker
One of the first foods you think of when trying to eat healthier is salad. However, you can make a bowl full of veggies very unhealthy if you top it with a high-fat processed salad dressing. If you have ever flipped over the bottle of salad dressing, a lot of ingredients are listed! To cut back on all of those additives, purchase this little salad dressing shaker to make your own. It comes in small and large depending on how much dressing you want to make and is easy to clean and use. Start with some heart-healthy olive oil and add your favorite spices to top your next salad. Purchase the salad dressing shaker here.
Collapsible Salad Bowl
Not having a plan for lunch can be a killer if you have to order in or go out each day. Instead, you could purchase this handy contraption to make bringing your own salads to work much more tasty. This space-saving bowl collapses for storage and has a tray on top for all sorts of toppings or sides. Toss a few whole-wheat crackers, veggies, diced chicken, tuna or egg, and your homemade salad dressing on top and you can have a balanced, high-fiber lunch without having to go out. A fork and spoon attach to the lid so you don't have to go searching for one at the office. You can purchase the salad bowl here.
Olive Oil Sprayer
The benefits of a Mediterranean diet have been researched and proven. The base of that diet is using olive oil. However, even though olive oil is good for you, it is still very high in calories, so the key is to not overdo it. One way to help with this is to use an olive oil sprayer. This is another gadget that gets pulled out almost nightly at our house. Just spray your pan before adding your protein or veggie, or add a spritz to your cooked veggies when they are done. You can even spray your air-popped popcorn with it too! Just grab your favorite olive oil, fill the container, and spritz away! You can purchase a Misto here.
Hopefully one or all of these gadgets will find their way into your kitchen soon!
This blog was written by Angie Mitchell, RD, Wellness Coordinator. To find out more about the NIFS bloggers, click here.