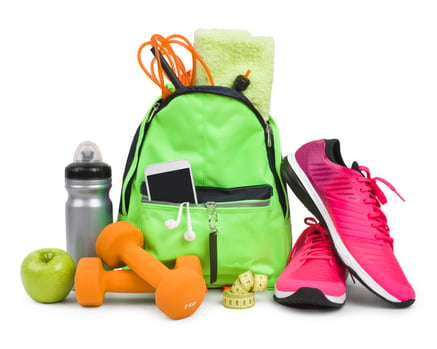 'Tis the season for holiday traveling, holiday parties, not having as much time to hit the gym, and eating more calories than are in your average diet. Spending time with family and friends is so important over the holiday season, but taking care of your health and fitness is just as important.
The key to this success is making exercise a priority. A few ways to do that are by committing to workout programs, scheduling in your workout times, committing to a fitness goal, and maybe even purchasing a few fitness essentials that fit in your suitcase to use conveniently when you are traveling.
Suitcase Equipment Essentials and Exercise Guide
Resistance Bands (average price $3–$8)
You probably have used a resistance band in your Small Group Training, Barre Fusion, or Circuit Training classes, or seen them being used by others in the gym. Versa Loops are a great tool to take with you during the holidays. These bands are very cost-effective and weigh almost nothing, nor take up much space.
A NIFS Fitness Center staff member can help you create an on-the-go workout plan using the band. Stop by and see an instructor for quick and effective band workouts.
The key to success is taking action. Just because you buy a mini versa band does not mean you will stay in shape like magic if it sits in your suitcase. Take time to schedule 20 to 30 minutes a few times a week to break a sweat and work on stability, mobility, and core strength with this amazing fitness tool.
Jump Rope (average price $10–$12)
Jumping rope is a great addition to a gym workout to get your heart rate up, but is also a great piece of equipment that you can easily add to your suitcase to torch calories anywhere and at any time. You can burn up to 10 calories a minute jumping rope. Pulling this piece of equipment out of your suitcase can definitely balance out the extra calories you consume during the holiday. Do it for 10 to 15 minutes straight for an endurance workout, or combine it with body resistance toning exercises for a great go-to HIIT workout.
TRX (average price $70–$130)
TRX is a great piece of fitness equipment that you can pack up to go anywhere. At moderate intensity, someone might burn up to 250 calories during a one-hour training session. TRX straps are light and easy to take anywhere. When you're in town, taking classes at NIFS is a great way to learn proper form and new moves, but this equipment can be hung in door frames or places around the house to also get in a great sweat and total-body workout.
Running Shoes (average price $60–$150)
Running is a free, very effective workout that is great for burning calories. If you don't have a pair of running shoes already, they can come at a price but make a great investment for staying accountable to keeping weight off over the holiday season (if you pack them in your bag and use them). If you are healthy enough for running, grab some shoes and hit the pavement or indoor track here at NIFS.
Some Other Holiday Wellness Tips
In addition to this equipment you can easily use to help stay fit over the holidays, don't forget about the importance of diet.
Remember portions. Overeating is very easy to do at holiday functions, so set your mind to eating for results. This means practicing portion control and not overloading your plate or having too much sugar and alcohol. Keep on a balanced diet through your normal lifestyle and allow yourself a little extra only on special occasions.
Don't be afraid to say "no" in the office. Just because a co-worker brings in a treat, does not mean you have to have all the holiday cookies and cupcakes. Maybe commit to having one a week even if someone brings in something new daily.
Have an accountability buddy. Find someone you trust and who also wants to stay healthy over the holiday season. Make goals together—like working out 4 to 5 times each week, or eating only one holiday dessert a week—that you commit to and achieve together so you don't feel like you're doing it alone!
Holidays are a great time to have fun, so enjoy doing everything you love like spending time with friends and family while also living a healthy lifestyle.
This blog was written by Brittany Ignas, BS in Kinesiology, 200 Hour Yoga Alliance Certified, and Stott Pilates Certified. To find out more about the NIFS bloggers, click here.