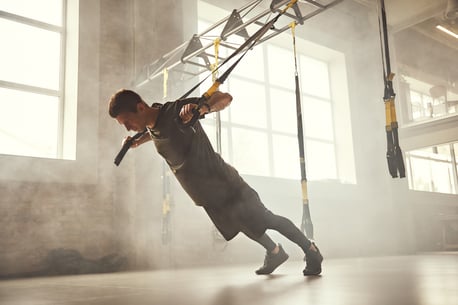 Starting from the ground up might sound like a daunting task, but with TRX it is possible. The TRX, which can be done as a group or individual, allows its user to perform various movement patterns with varying degrees of difficulty, all while using only body weight as resistance and a routine of exercises assigned to help you reach your goals.
The Equipment
The setup, designed by former US Navy Seal Randy Hetrick in 1995, is comprised of two straps, two handles, two cam buckles for adjustments, and a locking loop for safety. The equipment can be set up nearly anywhere, including but not limited to a TRX frame, a tree branch, or a sturdy piece of furniture. The unit is rather transportable and easy to set up. With that being said, it would seem to be the most ideal piece of equipment for home exercise and gym use. Although this is true, there still is a small learning curve, which you can easily overcome with some practice.
Adjusting Intensity and Difficulty Level
When you examine the exercises, you discover that the majority of them utilize angles to both increase and decrease intensity and level of difficulty. Furthermore, relying on the handles more and more can make things much easier. When it's time to up the workload, you can grip the handles less (which requires you to utilize more body strength to get through the exercise).
When we program a TRX exercise into your routine or in a class, we would expect that at any time someone might need a regression or a progression, so there isn't really a reason to stop or quit—just readjustments to help you keep moving!
How to Get the Most from this Equipment
Like all equipment, there are ways to best utilize this tool to get the most out of your time. When you understand that the difficulty level is determined by balance, stability, and angles, making just a few adjustments can really help you get a better workout.
Here are some tips that may also enhance your workout.
Do not allow any slack in the straps. The constant tension will force you to be in control while working through your movements.
Practice good form by having the straps as an aid. If you are having trouble with proper form at the bottom end of your squats due to ankle mobility or posterior chain flexibility, use it to help you move into and out of precarious instances where typically you would be uncomfortable. Once you are able to do the movements proficiently, try them again without the TRX and then eventually with a weight load.
Add an exercise to a workout circuit. To mix it up and give you a great workout, the versatility and multitude of exercises allows you to change exercises, sets, reps, and intensity at a moment's notice.
Most floor exercises with a TRX are more challenging due to the idea that you are using more energy to keep good form (including core muscles).
Try It in Group Fitness Classes at NIFS
What exercises have you tried? The group fitness classes offered at NIFS are for everybody. Your Fitness Specialist can modify an exercise if you aren't ready for it or if you need a little more of a challenge. The classes also offer variety to help enhance your own "exercise library," which will ultimately lead to more confidence. Remember that your exercises can vary from person to person, but as long as you can continue to challenge yourself, your body will continue to develop and become stronger.
Whether you are trying to improve form or get a total-body, no-nonsense workout, the TRX is an adaptable and highly useful tool you can use along the way. NIFS offers free classes weekly to help guide your workouts. If you still aren't convinced, contact a NIFS Fitness Specialist to discuss ways we can help you reach your goals.
This blog was written by Thomas Livengood, Health Fitness Instructor and Personal Trainer. To read more about the NIFS bloggers, click here.