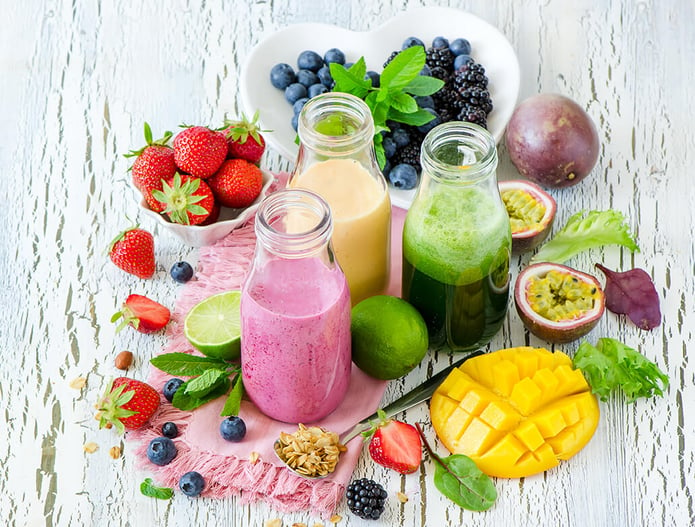 For a quick and tasty breakfast, lunch, dinner, or snacks, consider making a smoothie. This portable meal or snack can be chock-full of good-for-you antioxidants and vitamins if you make it correctly. Unfortunately, though, some of the pre-made ones are loaded with added sugar. So pull out your blender, food processor, or Vitamix, grab some ingredients, and let's get started!
Produce: The most important part of the smoothie comes from the produce. The fruits or veggies you add will load up your drink with nutrients. Aim for ½ cup to 1½ cups from this group, which typically includes berries, bananas, pineapple, spinach, kale, and whatever else you have in the fridge or freezer to add!
Ice and/or frozen fruit: Add ½ to 1 cup to give the smoothie more thickness.
Liquid: Use ½ to 1 cup of milk (preferably the unsweetened variety) or water. If you are adding fruit juice, make sure it is 100% fruit and stick to ½ cup or less.
Protein: 2 TB. of peanut butter (or any nut butter), protein powder, or Greek yogurt will help to keep you fuller longer, so don't forget to add this ingredient. If you decide to go with protein powder, make sure to get a basic whey protein powder that isn't extremely high in extras or sugar (some are available with less than 2g). This powder is also a complete protein, which means you get all of the essential amino acids. Just stick to 1 scoop or 2 TB. to avoid adding extra, unnecessary calories.
Fiber extras: For some additional staying power in your drink, add 1 to 2 TB. of chia seeds, oats, or flaxseed. (See this blog for more info on chia seeds and other add-ins.)
If you have an older blender with dull blades and a weak motor, stick to fresh fruit vs. frozen, and blend the ice cubes gradually into the smoothie. One tip is to add your dry ingredients last to avoid them getting stuck in the bottom. If you are having trouble getting the ingredients to blend, let it sit for a few minutes so the fruit can soften or add more liquid a little bit at a time.
Now it's time to drink up! Letting it sit for just 20 minutes might mean it will start to thicken or separate. You can store it in the fridge for up to 24 hours, but a fresh smoothie will have the best flavor and taste. Enjoy!
This blog was written by Angie Scheetz, RD, Wellness Coordinator. To find out more about the NIFS bloggers, click here.