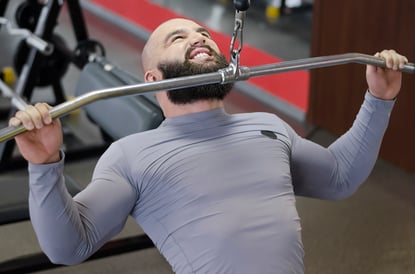 Have you ever tried working out in a time crunch or just wanted to get more exercise in a shorter period of time? Maybe you would like to speed through, but would rather have a plan of action to make your path a little easier. You are in luck because there is a fitness concept that does all of this while making sure you get a great workout. The idea is called supersetting, but it's not as simple as you might think. To develop a great superset workout, you need to understand how a few concepts really work.
What Is a Superset?
A superset is more than just a two-exercise "mini circuit." First of all, for these to work the way they are intended, you will have to reconstruct your fitness plan to allow for two exercises, back to back, that complement each other. Basically, the superset exercises need to work different muscle groups all together. For example, I could do a set of pushups (which primarily work the chest and secondarily the shoulders and triceps) and then follow that with a set of pull-ups (which primarily work the Latissimus Dorsi and secondarily the biceps and other back muscles). Another example would be bicep curls and triceps extensions. These are usually a great superset, especially for a time crunch.
Where many people get into a snag is when they try to superset two exercises where both movements incorporate the same muscle and movement pattern. Although it might be a great workout, a traditional superset wouldn't ask you to do a lat pull-down followed by a pull-up (this would be a basic "burnout" style of exercise that works, but for other reasons).
How to Have a Successful Workout
Now that we have defined the superset, here are a few tips to help make sure your workout is successful.
Keep it simple. First, try to keep the movement patterns simple and basic. I wouldn't superset a complex exercise, such as a clean and jerk or a Turkish get-up. These exercises have many elements, which makes them unique and requires more attention to details.
Choose proximal exercises. Second, I suggest picking exercises in your fitness center that are relatively near to each other, so you don't have to track all over the gym and waste time. This is why a bicep curl and triceps extension work well together. You can use the dumbbell area in your gym and have the weights right there ready to go.
Pick exercises that require less recovery time. Finally, bigger lifts usually take longer time periods to recover from. I suggest that if you are taking several minutes to recover from your first superset exercise before you do the next, you might need to consider a different exercise. I suggest that your rest be between 30 seconds to a minute maximum.
Developing workout plans that are appropriate and goal-oriented has always been the hallmark of the NIFS health fitness specialists. Being able to superset properly might not come as easy as you may think, but a staff member can help you make wise choices. You can set up a time to meet and evaluate your goals, do one of our numerous fitness-related tests and screens, or talk about workouts that you are doing. We are more than happy to assist with your programming. Followups are also important, so if you haven't met with a trainer in a while, please stop by and set up an appointment and keep moving forward.
Until next time, muscleheads evolve and rejoice!
This blog was written by Thomas Livengood, NIFS Health Fitness Instructor and Personal Trainer. To read more about the other NIFS bloggers, click here.