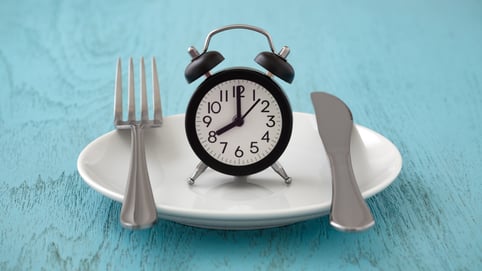 Losing weight is regularly ranked as one people's top New Year's resolution. That's probably why everyone and their mother is on a diet of some sort. One that is trending, and probably one you have heard about, is intermittent fasting. Intermittent fasting has been around for quite some time but has gained popularity over the years. The question is: is intermittent fasting really effective for weight loss? Yes and no. Confused? Let's dig in.
What Is Intermittent Fasting?
Intermittent fasting (IF) is an eating pattern that focuses on meal timing by cycling fasting and nonfasting periods. The eating pattern specifies timing of intake versus quality of food. Three popular methods of IF include the following:
The 16/8 method
Eat–Stop–Eat or Alternate-day fasting
The 5:2 diet
The 16/8 is the most common and entails 16 hours of fasting followed by an 8-hour eating window.
The Evidence of the Effects of Fasting
Several studies have explored the effect of intermittent fasting on weight loss. A 2019 study observed 332 overweight and obese adults. They compared weight loss and weight maintenance across three groups; week-on-week-off caloric restriction (a common IF method), continuous caloric restriction (the traditional daily calorie deficit), and the 5:2 IF method. Mean weight and fat loss at 12 months were similar across the three groups, and all groups saw significant weight loss.
Another study supported these results. Alternate-day fasting did produce significant weight loss, as did the control group who followed the traditional daily caloric deficit. A systematic review also showed that intermittent fasting (ranging from 3–12 months) produced weight loss as long as participants maintained a caloric deficit.
A common theme among all these weight-loss studies is that all groups, both intermittent fasting groups and traditional calorie-restrictive groups, maintained some type of caloric deficit, meaning they were burning more calories than they were eating (calories in < calories out/burned). So, it wasn't intermittent fasting that produced the weight loss; it was the caloric deficit. Granted, intermittent fasting was a way some could sustain the caloric deficit. However, others reported more pronounced feelings of hunger when following IF, and some studies had significantly higher dropout rates in the IF groups due to people struggling to follow the method.
The Bottom Line
Weight loss requires a caloric deficit to work successfully. The method in which one obtains this caloric deficit and maintains the caloric deficit will vary. One method, such as IF, may work for one person and not work for another. No weight-loss intervention, IF included, is a one-size-fits-all.
If you are one who naturally fasts (for example, you don't eat breakfast) or one who needs structure, intermittent fasting may be a solid approach to meeting your caloric deficit. If you are one who binges after a fast or struggles to make it through a fast, intermittent fasting is not for you. Stick with the traditional caloric-deficit approach.
Finding the Weight-Loss Method That Works for You
The biggest thing that goes wrong, at least for weight loss, is failing to make a sustainable plan—one that produces lifestyle changes. If the method for weight loss you are trying is not working for you and is something you can't stick with, it's time for a change. If you're struggling to find your sustainable lifestyle approach, consider seeing a Registered Dietitian.
This blog was written by Sabrina Goshen, NIFS Registered Dietitian. To learn more about the NIFS bloggers, click here.