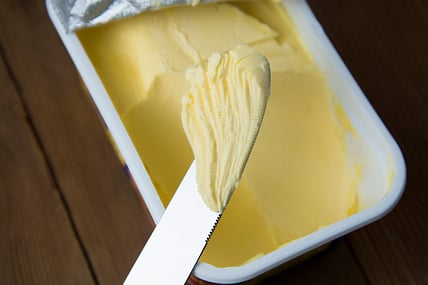 There is good reason for confusion surrounding what might arguably be one of America's favorite spreads, topping everything from toast to popcorn to potatoes. The butter-versus-margarine debate has been a hot topic for the last several decades and is still a slippery subject. We have begun to understand the possible dangers of our high saturated fat consumption to our health. However, at the same time we are told that margarines are "artificial," while butter is the all-natural choice. Which do we choose?
So Tell Me: Is Butter Actually Healthy?
In short, no. Saturated fat (found in high concentrations in butter) has been shown to raise "bad" cholesterol and increase risk of heart disease. Saturated fat content may not be helpful in judging healthfulness of foods (coconut oil presents conflicting research), so we need to prioritize foods that we know improve health—and butter is not one of them.
We have enough evidence to know that high saturated fat content in foods definitely doesn't help us—especially when we get it from the food sources that we do (a high intake of processed meats, cheese, and butter followed by too few fruits and veggies). The American Heart Association (AHA) recommends that we aim to keep our saturated fat intake to less than 5–6% of our total calorie intake—meaning if you follow a 2,000-calorie diet, you should be consuming 13 grams or less of saturated fat daily. Foods higher in unsaturated fat lead to lower risk of heart disease, so placing most of our focus on these foods like nuts, avocados, fatty fish such as salmon, nuts/nut butters, and olive oil is extremely important.
Note: The saturated fat content in just 1 serving of butter (1 tablespoon) puts the saturated fat intake at 7 grams. The AHA recommends 13 grams or less on a 2,000 calorie diet.
What About Margarine/Vegetable Oil–based Spreads?
While these options may have less saturated fat and more unsaturated fat (making them slightly more "healthy"), they are still very high in calories and we need to be extremely mindful of how much we are using. Excessive energy consumption will lead to weight gain and chronic health conditions. However, replacement of saturated fat in butter with more unsaturated fat does lower your risk of heart disease.
Try using a little olive oil, canola oil, avocado, hummus, or nut butters in place of your usual butter. Check your ingredients list for "partially hydrogenated" oils on any butter alternatives that you are using. If you see anything that is partially hydrogenated, it means that it contains what is called trans fat—a definite avoid-at-all-costs ingredient. Most food manufacturers have transitioned all of their products away from trans fat.
Note: 1 tablespoon (Earth Balance Original Vegetable Oil Spread) has 3 grams of saturated fat, 0 grams trans fat, and 7.5 grams of unsaturated fats.
Saturated fat is found not only in butter but also in meat, milk, yogurt, cheese, nuts, and vegetable oils. Each food has a unique nutrient profile that has a different effect on heart disease. The deeper issue, beyond news headlines and the ever-changing results of various studies, comes down to an obsession with nutrients instead of focusing on foods. We become convinced that we need more fish oil supplements, vitamin C, or collagen. When we try to decrease our "bad" fat/saturated fat intake, we need to make sure we are replacing that high-saturated-fat-content food with something healthy.
Your goal should be to focus on ways to minimize packaged foods and maximize whole foods. Currently, our diets are high in processed meats, sides of fries, loaves of white bread, cereal, chips, cookies, and crackers along with soda and a daily dessert, which has made the US one of the least healthy countries in the world with one of the leading rates of obesity. We do know that large amounts of plant-based foods such as fruits, veggies, whole grains, and nuts in the diet are beneficial despite the seemingly endless supply of perplexing research in other areas, and so the focus is to try and shift the plate toward an eating pattern that emphasizes these plant foods.
We fall back on the idea that more fruits and vegetables can only help us, and this is an area that even dietitians have to remind themselves to work on every single day. Butter is just an addition to a diet that is generally already very calorically dense and high in saturated fat—something we get too much of in our day-to-day diets. Does half of your plate consist of fruits and veggies at every meal? When we create variety in the diet, we minimize the risk of "doing it wrong." We can be certain that if we are filling our bellies with exactly what Mother Nature provided us, we can avoid falling into an eating pattern that sets us up for an unhealthy life and be even closer to getting nutrition "right"—setting us up for a lifetime of good health and happiness.
This blog was written by Lindsey Hehman, MA, RD, CD. To learn more about the NIFS bloggers, click here.