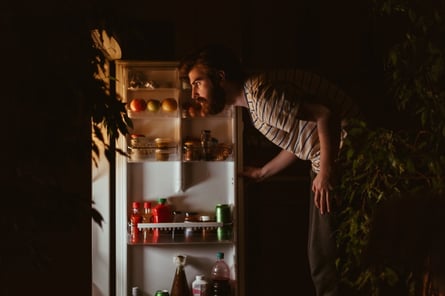 If your evening snack is turning into a fourth meal each night, that could hinder your wellness goals or sabotage your daily workout.
There is a lot of thinking that you shouldn't eat after a certain time of night. However, your metabolism doesn't shut off at a certain time, so the timing of the snack isn't necessarily the problem, as long as you make sure to have it at least an hour before bedtime so that it can be more easily digested before you go to sleep.
More often than not, nighttime snacking is from boredom or habit rather than actual hunger. Therefore, assess how you are feeling and then decide whether you are truly hungry and need a snack to hold you over until breakfast.
Healthy Nighttime Snack Options
If you really are hungry, try some of these balanced snacks that are a better option than the salty chips or bowl of ice cream.
One apple and a tablespoon of peanut butter
Container of Greek yogurt with fresh fruit
Raw veggies and hummus
Small bowl of high-fiber cereal (at least 3 grams per serving) and milk
String cheese or a light cheese wedge and a few whole-wheat crackers
Air-popped popcorn and a handful of nuts
Blueberries and strawberries with light whipped topping
An ounce of dark chocolate and a glass of milk
Avocado spread on a Wasa cracker or a slice of whole-wheat bread
Low-fat cottage cheese and fruit
Are You Eating Enough During the Day?
If you are consistently starving before bed, it might mean that you aren't eating enough calories throughout the day. Start monitoring your meals and see if you are spreading your calories evenly between breakfast, lunch, and dinner with a couple of snacks between meals. Making sure you have enough fuel throughout the day can decrease late-night desperation eating.
The other thing to consider is whether you had enough protein at dinner. Protein helps keep you full and satisfied, so have a serving around the size of the palm of your hand or around 25 grams to guarantee you are getting the benefit.
Remember to stop and assess your hunger level first before reaching for any late-night treats!
This blog was written by Angie Mitchell, RD, Wellness Coordinator. To find out more about the NIFS bloggers, click here.