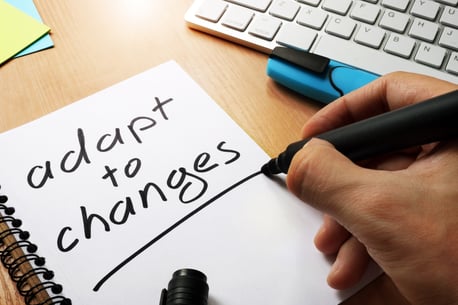 Daily, life provides countless learning opportunities that, if processed properly, can make us strong individuals capable of accomplishing extraordinary things. Some lessons stem from positive experiences in our lives, but I think the strongest lessons are derived from strife, hardship, and even failure. These lessons can hurt, and you can either live in the pain or learn from it. We are currently living a life full of learning opportunities that have and will continue to test our ability to grow.
I have learned so much during this time of crisis—about facets of daily life and of my profession, about myself and about people. In one of my recent posts outlining ways to "pivot" during stressful times, I encouraged you to write down and define a list of things you are grateful for. That same activity can be applied to lessons you learn each day. Take a moment daily, or weekly, to write down a few lessons that challenged you and how you learned from them. If you think about it, you should ink it for self-processing and to refer to later.
Here is a brief list of some of the greater lockdown lessons I have learned and have grown from.
I Don't Hate Working from Home
In the past, I have always thought I would hate having a home office and not going to a physical place of work. Being in the people business and with the multitude of distractions that home life can add to your workday, I didn't think I could be as productive, or that I would enjoy it. Now don't get me wrong, I am counting the minutes until I can be back with people; that's who I am. But I really don't hate working from home right now. There is freedom in it, and it has provided ample time to really focus and get things done. It has helped harness my self-discipline, creativity, and a balance of work and life duties. I found some key behaviors to get the most out of your day working from home:
Keep a schedule: The early bird gets the worm. This goes for eating, too.

Dress up to show up: Get cleaned up and put on some proper attire.

Designate a work area: That is where you put in work.

Get up and move around often: I rotate work and chores to stay fresh.

Work out: Duh, exercise is crucial no matter where you are working from.

Don't eat and work: Enjoy the quick break.

Log what you do: Some people are required to do this, but I think it's a great reflection tool as well.

Shut it down: When your day is over, shut it down.
A New Appreciation for the Breadth of Social Media and Technology as an Educational and Behavioral Tool
I still consider myself quite the caveman when it comes to social media and all the technology that connects us as a community. But I have learned so much in a short time about so many ways I can affect others' lives using many technological and media applications. From Zoom workout sessions to the many ways to post on all social media channels, there are countless ways to funnel information and great content to the masses. And although nothing can replace the feeling of connecting with someone in person, these tools provide a close second to reaching people. The strategies I have learned during this time using technology and social media will be used far after the lockdown is over and have made me a better fitness professional to serve people.
Great People Show Up in a Crisis
A crisis can bring out the best or the worst in people, but great people show up no matter the situation. Health care workers, first responders, and officials on the front line of the pandemic are owed our deepest gratitude for the work that they do. But I am also referring to coworkers, family members, and friends. Great people relish challenges and step up to provide solutions and take action to complete tasks and help others. I've learned a lot about many folks during this time, and that most people want to help as much as they can and find ways to do so. Your instructors and professionals at NIFS have answered the call and are proof that great people show up.
Fitness Matters
Once the stay-at-home order was set, it was amazing to see how many people were clamoring for ways to get their fitness fix. Fitness continues to be a huge part of so many lives, and as a fitness professional it was awesome to witness how important fitness and our industry are to people. Physical activity and exercise are still, and will always be, the best medicines to prevent and treat serious illnesses. I have seen so many stories of people who are healthy because of regular physical activity beat COVID-19 into submission.
Not only that, the response of so many people who wanted—nay, needed—to work out either virtually with others or family time fitness had been huge. Countless posts of people being active flooded social media, and folks flocked to virtual training sessions. It is not a new lesson to me that physical activity is the answer for so many things in our lives. It was great to learn that so many have heard the message and will do anything to get and remain active.
Adapt and Adjust
Don't be that person who is the first to complain about a situation and the last to do something about it. We are going to encounter so many more challenges in our lives, both big and small, and the ability to adapt and adjust will be a lesson we use forever. Having the strength and grit to pivot and find ways to thrive during adversity are attributes that I believe are fortified during a crisis or negative situation.
The strategies and positive approaches you learn to implement during strife will pay huge dividends further down the road, whereas allowing the situation to consume you coupled with a negative mindset will lead to greater hardships even from smaller issues. Staying positive and taking time to think about how to adapt is how you learn to take on anything that may stand in your way. Taking action right away and not sitting on your hands waiting for something or someone to bail you out can be hard at times, but will be the only sure way to make it through and be a better version of yourself.
School Is Always in Session
Last lesson: school is always in session, kids. Lessons can be found in any situation, and it will be those lessons that will serve you the rest of your life in great times and crisis. We will get through this; but "will you be new and improved because of it?" is the question. We will all need to learn a new way of living, at least for a little while. Find those lessons that are waiting for you and be a lifelong learner.
This blog was written by Tony Maloney, ACSM Certified Exercise Physiologist and Fitness Center Manager. To find out more about the NIFS bloggers, click here.