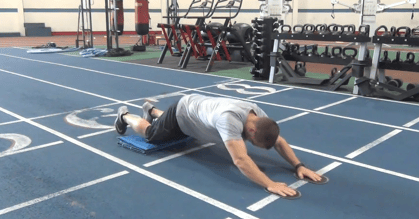 In my eight years at NIFS, one major thing I am so lucky to have is a world-class fitness facility right outside my office door. Some of the greatest fitness equipment surrounded by some of the greatest fitness minds are at my fingertips every day. I love to move, and I love to move here, but many times I need to move outside of these walls, and of course I will have to leave the awesome gear where it lies.
But have no fear; there are some options that can maximize results with minimal gear. My first choice is my NIFS' fitness floor, but in this four-part series, I will highlight my favorite tools to use when you can use only one.
Favorite Portable Exercise Equipment: The Slider
Today we take a look at the innocent-looking but brutal tool the slider, also known as a Valslide. You may have seen them used to move heavy furniture. This simple and versatile tool can challenge most movement patterns as well as create balance and stability needs. With movements ranging from beginner to advanced, there is really something for everybody when using sliders. They can act as a focal point of a metabolically driven circuit, or in a core-targeting segment, as well as super-setting with a heavy strength movement.
And one of the most appealing attributes of the slider is that you can take it anywhere without taking up any space. You will find that the four implements I will be highlighting all have this in common. The other thing these have in common is that they take away your excuses for not training while you are away.
Best Slider Exercises and Workouts
Here are 10 of my favorite slider exercises and some workouts that you can try out.
VIDEO WORKOUTS:
Circuit—:40/:20—3–5 rounds
Reverse lunges

Burpees

Hamstring curls

Pushup reaches
Strength
A1 barbell deadlift—5x2

A2 slider slideouts—3x10

B1 DB flat bench press—3x8-10

B2 slider eccentric hamstring curls —3x8-10

C1 lat pull-downs—3x8

C2 slider lateral lunges—3x8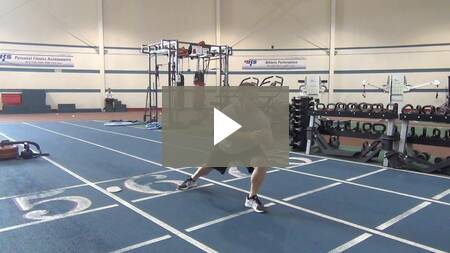 There are far more movements and ways to use the versatile slider. For more ideas, flag down a NIFS instructor and they will be happy to help. Until next time when I cover the superband, add a few of these movements into your workout and start reaping the benefits of this simple tool.
This blog was written by Tony Maloney, ACSM Certified Exercise Physiologist and Fitness Center Manager. To find out more about the NIFS bloggers, click here.