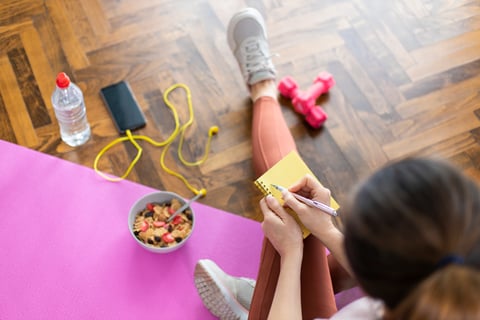 This year make an effort to change small things and create healthier habits. You'd be surprised how little changes can lead to big benefits.

Think Your Drink
Studies have shown that when liquid is consumed with a meal, whether or not it is calorie-free, the person's level of satiation does not change. This means that all of those calories are being drunk but no food is given up to balance them out. Load up on plenty of liquids that are low in calories such as decaffeinated coffee and tea, flavored water, and low-calorie juices.
Portion Distortion
The portion sizes that are served today are considerably larger than they were 20 years ago. Therefore, more calories are being consumed in serving sizes that seem "normal." Attempt to stick to a single serving or the smallest offerings of items. Look at labels and use the serving size on the nutrition facts panel as a guide. Aim to stick to the amount recommended.
Filling Fiber
Foods that offer fiber help the body stay full; therefore, the need to eat more is lessened. Reach for whole-wheat bread, pasta, and brown rice versus the non-fiber-filled counterparts, and the fiber will help keep your stomach from growling for a longer period of time.
The same is true when you eat a piece of fresh fruit or veggies, which are higher in fiber, instead of chips or pretzels that have no fiber. The more fiber you eat, the fuller you will feel and the fewer calories you will consume.
Move More
Here are some ways to get moving more:
Park farther away at stores.
Take the stairs instead of the elevator
Work out for 25 minutes instead of 20
Go for a walk after lunch or dinner.
Play your child's Wii games.
Take hourly stretch breaks.
Wear a pedometer.
Add strength training to your normal cardio routine
Sign up for a race and start to train for it.
Whatever you choose, make sure it is something enjoyable so you will continue for the long term.
Track Your Choices
Start writing down your food and beverage choices daily. Seeing what you eat can be very helpful to guide serving sizes and the types of food you choose—and helps with accountability.
A helpful online food journal database is MyFitnessPal. This allows you to pick from a large database of food choices and see where your diet is lacking or in excess. In addition, physical activity can be tracked, too. But be honest; on average, users underreport around 10% of their food intake.
This blog was written by Angie Mitchell, RD, Wellness Coordinator. To find out more about the NIFS bloggers, click here.