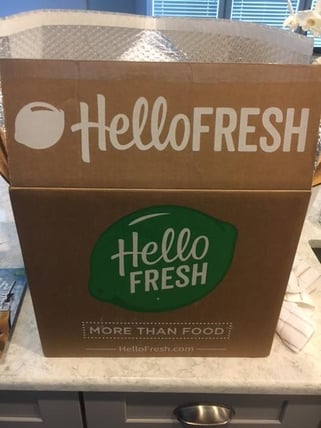 When I ask people why they don't cook more, I get a lot of answers. Typically it's along the lines of "I don't have time," "I haven't been to the grocery store," "I don't know what to cook," or "I don't know how to cook." So I was intrigued by the meal delivery service options that are available for individuals who don't cook as often as they'd like.
Some of the more popular services are Blue Apron, Plated, Hello Fresh, and one local to the Indianapolis area called Fresh Artistry. I had an offer for 50% off my order with Hello Fresh, so that is why I chose to try that one. Here is my experience.
Ordering and Delivery
I went to the Hello Fresh website to sign up. I was able to choose three meals to feed two people (from a selection of six meals) for $35 (originally $70). If I were getting vegetarian choices, it would be a little cheaper, and they also had an option for a family of four. After choosing a beef dish, chicken dish, and fish dish, I was able to pick my delivery date. I chose a Tuesday delivery so I could enjoy the meals during the week when time is short for meal prep.
The box arrived on my front porch with many ice packs to keep the food fresh. Each meal was nicely distributed into its individual boxes, which I appreciated, so I knew which ingredients went with which dish.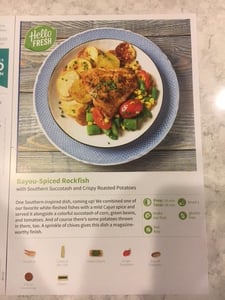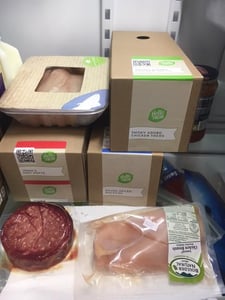 Making the Meals
I pulled out the colorful instruction card for the first meal that it suggested I make to guarantee freshness, which was Bayou-Spiced Rockfish. It also listed the prep time, that it was gluten and nut free, the difficulty level, the ingredients I would be using, and a picture (this I really appreciated!) of the final product. When I flipped over the card, it listed the nutrition facts for the meal, what tools I would need to use, and detailed instructions with more photos! So far I was really enjoying my purchase!
I started to work on prepping the veggies and potatoes. What I really enjoyed was the fact that I had minimal dishes getting dirty in the kitchen. When I was finished, the only items I needed to clean were a knife, cutting board, and skillet. This was a plus for sure! After the veggies and potatoes were prepped and ready, I switched those out for the fish. The pan was hot so it didn't take long at all for it to cook.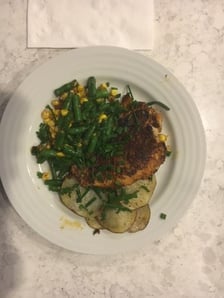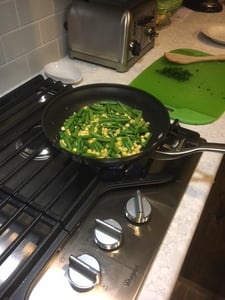 The final thing to do was to put it all on the plate and taste it. I thought it was delicious! The portion size was ideal, the flavor was great, and the prep and cleanup were easy! From start to finish the time was around 30 minutes before eating.
The other two meals that I was shipped were also tasty. Each of those took around 35 minutes to prepare (due to a longer cooking time for the chicken and beef), and they both involved one extra piece of equipment to wash.
The Verdict: Thumbs Up!
Overall I was very happy with the service. What I really liked was the option to skip weeks easily when you don't want a delivery. I was really delighted with the Hello Fresh process. If you have been wanting to cook balanced meals and do more healthy eating, this is the easiest way I know of to get started. Try one soon and let me know what you think!
This blog was written by Angie Mitchell, RD, Wellness Coordinator. To find out more about the NIFS bloggers, click here.