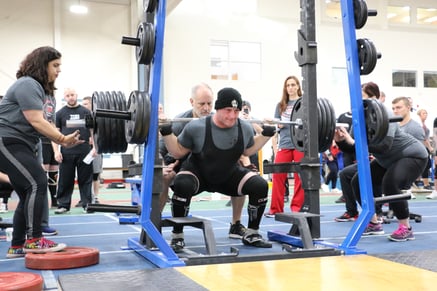 Almost five years ago, the team and I hosted the first ever powerlifting event here at NIFS. Also known as the Iron Triathlon (shirt slogan spoiler alert), the first year was a modest one with 25 athletes competing. This year, the competition registration sold out in just under three days! From our humble beginnings to this year's event, it's been a ride. There has been so much hard work, resulting in so many smiles and victories for both the athletes and the crew. We have learned a lot from year one to now, and we have developed from our challenges and gotten better each year.
As we near this year's NIFS Powerlifting Competition coming up on November 10, I found myself wondering what were some of the best things that have happened in the five years of this event. Here are the five best results to come from the past five years.
Growth
As mentioned before, our first event consisted of 25 athletes who put on a great show and set the tone for years to come. The next year we doubled our registration. Obviously the word got out that the athletes, event staff, and environment were second to none. We increased again the third year and sold out the 4th and 5th annual competitions. The team and I couldn't be prouder to provide such a great event that athletes and spectators are flocking to Indianapolis to compete in and witness.
"The competition was amazing and it was extremely smooth from setup to setup. I will definitely recommend NIFS to anyone, and the crew you had there was stellar. I've volunteered for a few powerlifting meets myself and I understand how exhausting just setting everything up can be. The atmosphere was great."
—Damon Bryant
Competition
As the number of registrations rose, so did the level of competition. Athletes were coming from other states to compete, and they all brought their talents to Indy to win. We have seen Squats and Deadlifts over 700 pounds and Bench numbers surpassing the 300 and even 400-pound mark. Our first event had five female athletes competing; this year there are 22! It's awesome to see so many strong women competing.
"I would say that this is a great first meet for any beginner powerlifter or anyone interested in pushing their body to their weightlifting limits. It gives you the chance to compete against people around your body type and ultimately see what you're made of."
—Tyler Mullen
Comradery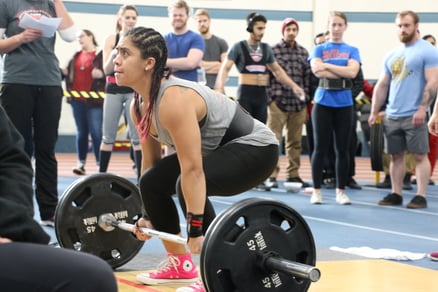 One thing we hear a lot is how inclusive and supportive the environment is on event day. Even though athletes arrive to be victorious over one another, they all support and cheer on each other to do their best. I think the sport of powerlifting is just this way, but I also think the NIFS event intensifies the comradery among these athletes. It sounds corny, but there is something in the air that day, something that reinforces that it's "WE" and not just "I."
"I loved how encouraging everyone was. Even though it was a competition, people were constantly saying 'you can do it' or 'great job'. High-fives were everywhere and it was awesome. PLUS all the free goodies—what college kid doesn't love free stuff?"
—Madison Stewart
Victories
One of the coolest aspects of our event is that, for many, it's their first competition. As a non-sanctioned meet, it's a great first step to see whether the sport of powerlifting is for you. So many first-time lifters, those who maybe once thought they couldn't succeed in this kind of competition, have not only competed, but have taken home some hardware. There's nothing like witnessing someone take on their fears and conquer them; it is so powerful!
"This was my first powerlifting meet, and I was a little nervous coming in not really knowing what to expect. However, EVERYONE was very nice, including the staff running the event and the competitors that were competing. After doing several powerlifting meets after this one, this one ran the smoothest and fastest by far. It was an amazing atmosphere with lots of spectators and everyone cheering you on every single lift."
—Bailey Schober
Athletes
The amazing staff and crew are responsible for providing an energetic and smooth event, and so many thanks go out to each team over the past four years. But it's the athletes who put on the show. I have had the great pleasure to meet and work with some pretty outstanding individuals during the past four years of this competition. These athletes work so hard for so long to put it all on the line that day, and they do such a phenomenal job. Of all the enjoyable aspects of this event, being around all these amazing athletes is by far my favorite. Having the opportunity to learn about them, maybe meet their families that day, and be able to give them that last word of encouragement before their last attempt at a PR—it lights me up! I know I speak for the entire crew that we cannot wait to get underway on November 10!
"NIFS is one of my favorite competitions each year because of the great people that make it all possible. Thank you for hosting such a great event that I look forward to returning to each year!"
—Ben Poore
So if you are interested in seeing why this event is so awesome, put it on your calendar for November 10, and witness the spectacle and a bunch of bars bending. Lifting begins at 9am, and it's a measly $5 per person. Kids 12 and under get in free. We hope to see you all there!
This blog was written by Tony Maloney, ACSM Certified Exercise Physiologist and Fitness Center Manager. To find out more about the NIFS bloggers, click here.