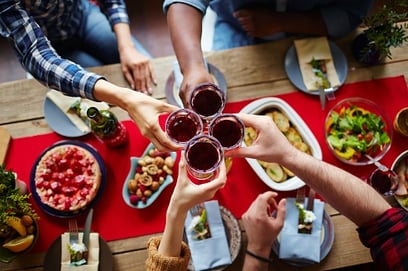 It's the time of year that no one wants to talk about. But let's face it: Christmas decorations have been out in stores for over a month, and the holidays are just around the corner. And for many across the nation, the holidays are one of the most dreaded times for unhealthy eating and putting on unwanted excess weight. But it doesn't have to be like that. Don't let this time of year scare you. Instead, view it as an opportunity to meet the weight management challenge for a better you!
Tips for Finding Balance at Thanksgiving, Christmas, and Beyond
The holidays are hard, and I would never deny that. Travel bogs you down with fast food on the road and in the airport; visitors come to the house to stay for a week at a time and you have to do all the cooking of holiday meals; and those delicious goodies that seem to appear only once a year are ever-present on the counter yelling, "EAT ME!" So with all this, how do you stay on track? Allow me to share a few ideas that come to mind for having a successful holiday season with your eating and exercise.
Find a nutrition balance. While I am not encouraging you to go out and have five of your favorite cookies every day, I am going to say it's okay to have one. The key to being successful and not overdoing it with what you put into your mouth is balance. There are times through the holidays that the

red velvet cake

is staring you in the face, and if you do decide you are going to eat it, then create a balance. What are you going to say no to instead? A few tips: don't eat the entire piece; leave some on the plate. Eat slowly and allow yourself to feel full rather than killing it in two bites. Drink water with it or milk that has some nutritional value. The more water you drink, the more you will feel full, allowing you to scale back on the cake intake.
Find a workout balance. You also need to find balance in the gym. You know those people who head to the gym for a three-hour workout on Thanksgiving morning? You don't have to be that person. If you have a good balance of both exercising on a regular basis through the holidays and eating appropriately, you won't need that 3,000-calorie burn before the big feast.
Have a plan. Making sure that you have a plan is essential to your holiday success. I have found when there is no plan in place ahead of time, it becomes a free-for-all, which leads to overeating. Make a plan before the holidays start and create goals that are both realistic and attainable for yourself. If you know you have travel coming up or you know that you are hosting for a week, come up with a plan that makes sense for how often and how long you will be able to work out each day, as well as what you will be eating and potentially cooking for guests.
Stick to the plan. Having a plan can be the easy part, but sticking to that plan is the challenge. Make sure that you commit to your goal: if you said you were going to work out three to four times a week, do it! If something comes up and you can't get to the gym, do something at home. The biggest thing is to not allow yourself to make an excuse. You may have to get up a little bit early before the guests arise for your homemade waffles, or make sure the hotel that you are staying at has a gym. Whatever you need to do to stay on track, make it happen.
Have some accountability. Figure out what type of accountability works for you. Maybe it's coming up with that plan with a friend or family member. Or maybe it's tracking it through a fitness tracker, signing up for a personal trainer, or joining a program the gym is putting on. Whatever it may be, find what works for you and commit to doing it.
Questions? Please contact Ashley Duncan (aduncan@nifs.org or 317.274.3432, ext. 226).
This blog was written by Amanda Bireline, Fitness Center Manager. To find out more about the NIFS bloggers, click here.