Many people depend on early-morning caffeine to "jump-start" their bodies. Others consume caffeinated beverages throughout the day when they are stressed or tired to keep their bodies alert and functioning. However, caffeinated foods and beverages should not replace the healthy habits of regular, balanced meals and snacks or adequate sleep.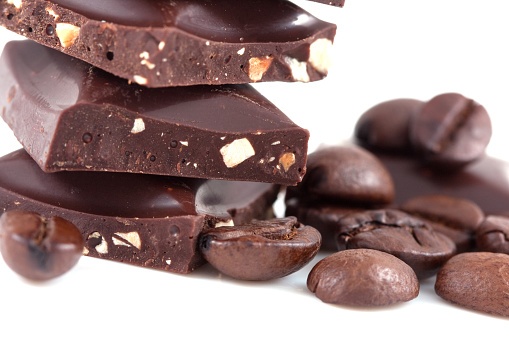 Although caffeine provides an "energy boost," the stimulant can also cause anxiety, restlessness, constriction of blood vessels, and an elevated heart rate. For these reasons, limit caffeine to 400mg a day.

Below are some common beverages, foods, and over-the-counter medications that contain caffeine. Caffeine content in coffee varies widely depending on the variety of coffee bean and the method of preparation used.

Caffeine Content in Milligrams (mg) for Common Foods and Medications

Coffee (8 oz.)
(The amount of ground coffee per cup is a key variable.)
Brewed: 65–120mg
Instant: 40–110mg
Decaffeinated (instant or brewed): 2–4mg
Starbucks Coffee (12 oz.): 279mg
Coffee drink with one shot of espresso (12 oz.): 113mg
Chocolate (1 oz.)
Dark: 5–35mg
Milk: 1–15mg
Cola Beverage (12 oz.)
30–60mg
Coffee/Chocolate-Flavored Dessert (1/2 cup)
Ice cream: 18–126mg
Frozen yogurt: 0–25mg
Tea (8 oz.)
Brewed: 20–90mg
(The longer it steeps, the higher the caffeine content.)
Instant: 24–31mg
Cocoa (8 oz.)
Average: 80mg
Chocolate Milk (8 oz.)
Serving: 2–8mg
Caffeine-Containing "Energy Drinks" (8.3 oz.)
Serving: 3–32mg
Caffeine-Containing "Energy Bars" (68g)
Average: 50 mg
Stimulants (per tablet)
Vivarin or NoDoz
Average: 100–200mg
Pain Relievers (per tablet)
Average: 32–65mg
Other Ways to Stay Awake During the Day

If you find yourself reaching for over 400mg of caffeine per day to stay awake and energized, try some of these healthy alternatives to caffeine:

Do not underestimate the power of a quality night's sleep. If you generally feel well rested in the morning, you are likely meeting your slumber needs. If not, be sure to turn the TV off before falling asleep and avoid looking at bright devices that can keep your brain waves stimulated.
Another key is to maintain a consistent sleep/wake schedule even on the weekends.
Exercise

is another way to ensure a good night's sleep and being more awake during the day.

Finally, go outside for brief sunshine breaks. Exposure to bright light helps regulate your body's rhythms.
This blog was written by Angie Scheetz, RD, Wellness Coordinator. To find out more about the NIFS bloggers, click here.