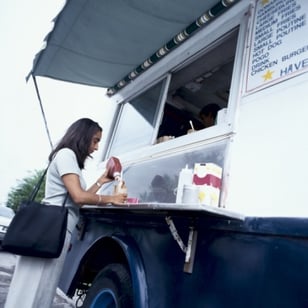 The food truck phenomenon started in 2008 in California with a truck called Kogi BBQ that served Korean-Mexican fusion on the streets of L.A. Soon many chefs followed the trend, and now you can find these mobile dining establishments in most cities across the U.S.
One great thing about this trend is that it tends to be inexpensive compared to restaurants, and a fresher fast-food option. However, since these trucks typically have an ever-changing menu, it can be challenging to know what to order—and whether you can find a healthy option.
Tips for Healthy Eating
Follow some of the tips below, and then get out there and find your new favorite truck!
Scan for the best. Normally if you see one food truck, there is another one close by, or as is getting popular now, you might be at an event where a bunch of food trucks have gathered at one time (such as the

First Friday Food Truck Festival

). Take a walk around and check out all of the menus available (burning those calories as you walk), and then you can make a more informed choice.
Eat with a fork. One thing food trucks are known for is their fresh ingredients, so take advantage of filling up on those. And when you load up your plate or bowl and require a fork to eat the item, it slows down the process. Allowing your brain to tell your stomach that you are full is the goal, and this typically takes around 20 minutes. By eating with a fork, you can slow down considerably versus folding over the pizza and finishing it in five bites, keeping the burrito all rolled into a nice hand-held contraption, or using both hands to wrap around the giant burger!
If you aren't using a fork, look for a taco truck. Almost all food trucks that specialize in tacos have great things going for them: they are portion controlled, typically have a protein source in them, and are loaded with veggies on top! Most food truck tacos aren't loaded with sauces and cheeses like sit-down Mexican restaurants, so you can save a lot of calories. One more plus is that most food trucks use corn tortillas instead of flour, which means less processing, fewer calories, and less sodium.
Burn more calories standing up. Usually there aren't a lot of places to sit around food trucks, which a lot of people see as a drawback of the movement. However, take this opportunity to practice eating your food while standing. It is well known that standing burns more calories than sitting, and can also help prevent

acid reflux

.
Share, share alike. As I already mentioned, typically there are a lot of different food trucks in one area. So, grab a friend or a co-worker and try multiple items. You will get to try a lot of different things but in much smaller portions.
Moderation and Balance Are the Keys
As with any dining out, when it comes to food trucks the same nutrition rules apply: moderation and balance. As long as you remember to have three food groups on your plate and eat a standard amount, you can enjoy the food truck experience for lunch or snacks and not feel guilty!
This blog was written by Angie Mitchell, RD, Wellness Coordinator. To find out more about the NIFS bloggers, click here.