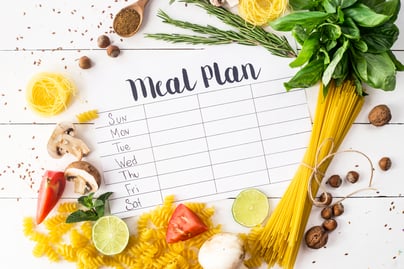 Meal planning is not a new idea, but many people feel overwhelmed at the concept. Creating a nutritious, yet minimally perishable menu can be a daunting task. It is important to meet nutrient needs but ensure the foods are either shelf-stable, can be frozen, and/or last longer periods in the fridge.
Here's some tips on how to break down the process to create a 4 week meal plan for you and your family.
Steps for Planning Your 4 Week Meal Plan
Step 1: Determine the caloric needs of the people in your household. To determine caloric needs, see the Dietary Guidelines. That will be important when you start planning the meals, because this will drive the portion sizes and ensure you are buying enough to meet the needs of all members.
Step 2: Consider budget. Knowing your budget will guide your decisions.
Step 3: Consider your storage space. Storage space is important to consider, because one with a lack of freezer space wouldn't want to plan a ton of meals with frozen goods and opt for more low-sodium canned vegetables and canned fruits in water. On the contrary, one with a deep freezer can capitalize on some of the convenience, healthy frozen meals along with the frozen fruit and vegetable options.
Step 4: Start by planning breakfasts for 4-6 weeks. Consider having 2-3 breakfast options and rotate those options daily throughout the 4-6 weeks. Ideas include protein pancakes made from shelf-stable mixes or NIFS recipe below, oats topped with nut butter and frozen or canned fruit, or omelet with frozen or canned veggies (eggs can keep in the fridge for 4-6 weeks).
Step 5: Do the same thing for lunch and dinner. This is a good time to check out canned meats or freeze fresh meats and seafood (depending on storage space). Bread and cheeses can also be frozen and used for later times. Shelf stable foods include brown rice, chickpea pasta (has extra protein), sauces, whole grain pizza crusts, beans, legumes, canned vegetables (get low-sodium and rinse prior to use), canned fruits in water, tuna, canned chicken, jelly and nut butters.
Step 6: Plan 4-6 snack options, and buy enough for family members to have 1-2 snacks daily for the 4-6 weeks. Check out protein bars, granola bars, nuts, and fruits (canned, frozen, and dried)
Step 7: Reflect. Do all your days include each food group? Are there enough whole grains, vegetables, fruits, protein, and dairy or dairy-alternatives planned into each day? If not, go back and find a place to add the lacking nutrients. Having all food groups helps to reach vitamin, mineral, and fiber needs.
Step 8: Reach out to your Registered Dietitian if you need help!
RECIPE FOR THE WEEK: Protein Pancakes
Enjoy these protein-packed pancakes. They are easy to prepare, made with no refined grains and use ingredients that have a long shelf- and fridge-life.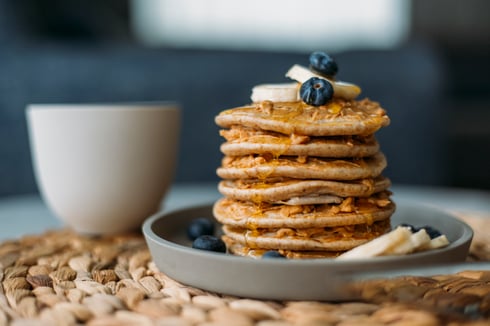 Ingredients
1 cup oats
1 banana (ripened)
2 eggs
½ cup egg whites
4 tsp baking powder
Pinch salt
Cinnamon to taste
1 scoop protein powder
2 tbsp flax meal
Directions
Mix all ingredients until no clumps exist
Heat skillet or griddle on medium-high heat.
Pour ¼ cup mix on skillet per pancake. Once the edges start to look dry and bubble, flip the pancake to cook for another minute.
Serve warm with toppings of choice.
Pro tips: *Instead of syrup, try pan-searing frozen berries over medium-high heat and pour them over the pancakes!
*Once your bananas ripen, freeze them to use them for future recipes.
If you want more convenience, check out Kodiak pancake mix, Krusteaz pancake mix, or Kroger brand protein pancake mix. All have whole grains and packed with protein!
This blog was written by Sabrina Goshen, Registered Dietitian. To learn more about the NIFS bloggers, click here.