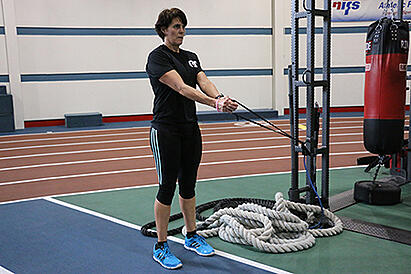 This is a milestone year for me, so I have decided to do a workout of the day using my new age as the number of sets, reps, or length of time of the workout.

Why did I decide to do this? As I have gotten older I look for confirmation of my youth not being lost. I still feel I can do workouts that I did in my collegiate basketball days. This motivates me, and I hope it will motivate many of you as well. I am not signing up for this "muscle leaking" phase that we all fall into as we age.
My Exercises
The bases of these workouts vary so that I get a fine mix of strength, endurance, and recovery days. I have had some struggles finding variety in each, but given my job, this is a problem I can work through. After 1½ months I cannot say I am in "such great shape," though I do feel stronger since many of the workouts have included bodyweight exercises.
The easiest place for me to start was with pushups, and then the moves spin off. I also wanted to include legs since they are big muscles, which burn big fat. The back needs consideration as it is key to a good posture, in addition to the core. So of course plank exercises take care of this. Who doesn't love a great plank?
As for the off days, some good yoga moves have been rejuvenating (though 50 downward-facing-dog stretches into pushups was tougher than expected and had to be broken up a bit).
There have been days when I realized I had not attempted anything close to 50 of something. A quick set of bridges one day, a pike plank the next, and 50 mountain climbers after a workout quickly filled the quota.
The Power of Group Workouts
I do need to thank my workout girlfriends who have been willing victims to these Power of 50 Workouts. Albeit begrudgingly, they do the work with me. Of course those older than me love it; those younger wish they had picked their own age for the repetition scheme.
My suggestion is to pick your number and #challengeyourself daily!
Good luck!
This blog was written by Kris Simpson. Read about our other NIFS bloggers here.