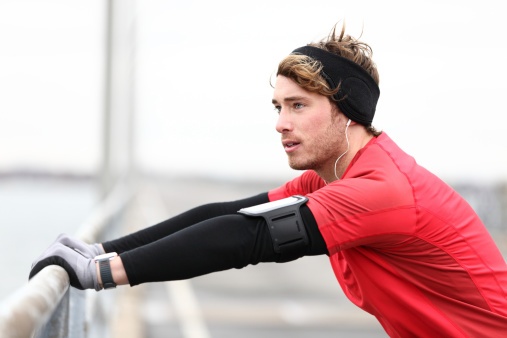 Okay, I know it's not something we really want to talk, about but let's face it: the Drumstick Dash and other holiday races are coming up, and I have a feeling it won't be sunny and 85! I found some good tips on Runner's World that I wanted to pass along about preparing to run in the cold. Hopefully some of these help as you join the upcoming Thanksgiving and Christmas races!
Arm your feet. Wear shoes with the least amount of mesh material. If you have

GORE-TEX

shoes, that should be your first pick. Wool socks are a must, and cover your feet with plastic bags if necessary.
Dress right. You want to make sure you stay warm, but not so warm that you sweat a lot and get a chill. Layers are important, and gloves and a hat are vital to keep those digits protected from the cold.
Wear bright-colored clothing. With it being so dark early in the evenings now, or if you run in the morning, wearing bright colors or a vest to stand out is a great idea. Also, if you are running in the dark, you may want to wear a headlamp or take a flashlight with you.
Warm up. The cold doesn't feel so cold if you are warm when you go out.
Run into the wind first. If you have to run into the wind (I know, for some reason it always feels like you're running into the wind!), get that done first so that when you are sweating, it doesn't give you a chill.
Move past the speed. Cold-weather running isn't usually for speed work; it's a time for maintenance work.
Change clothes quickly post-run. Be sure to bring extra clothes and change as soon as you are done. Even if you plan to just jump into the car and go, get changed so you don't get sick.
For more tips on dressing for winter running, see

this NIFS blog post

.
The 500 Festival Mini Marathon and Geist Marathon are just around the corner! Now is the time to plan your training program.
REGISTER NOW and take advantage of our Early bird pricing until 11/30/21 and you could win free training!

This blog was written by Amanda Bireline, Fitness Center Manager. To find out more about the NIFS bloggers, click here.