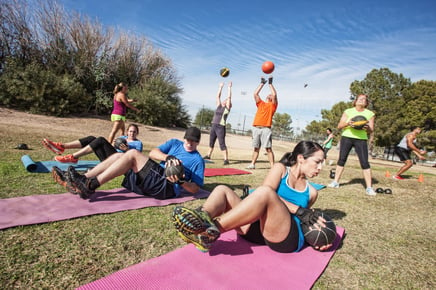 So many people have been expectantly waiting for this hot summer weather to be able to get outside for their workouts. And I can tell you that I am also one of those people; but there are some dangers behind the dog days of summer that we all need to be aware of.
Taking your exercise outside is an awesome idea, but I wouldn't cancel that gym membership so fast. Let's take a look at both the dangers of the steamy outdoor workouts and ideas on how to stay cool.
Why Outdoor Exercise Can Be Dangerous in Hot Weather
When the temperatures and humidity rise, working out outside can become dangerous, and it can happen very quickly without anyone even realizing it. The hotter and more humid it becomes, the more you sweat, and the sweat cannot evaporate as quickly as it should. Because of this, your internal body temperature rises and can become deadly.
Some warning signs and symptoms of reaching that dangerous and potentially deadly state are weakness, dizziness, muscle cramps, confusion, headache, increased heart rate, and vomiting.
How to Keep Cool for Summer Workouts
But there are some ways that we can help ourselves during the dog days of summer if you do choose to work out outside. Take a close look at this list and consider taking these steps:
Hydrate, Hydrate, Hydrate. Drink as much water as possible for proper hydration.
Wear sunscreen. Lather up with sunscreen to protect your skin.
Wear sunglasses. This important piece of equipment protects your eyes and conserves energy.
Get the proper clothing. You want to wear light and loose, moisture-wicking clothing.
Consume the proper nutrition. Eat a well-balanced diet, and make sure to eat something small before you head out for a long run or

Bootcamp class

.
Check the air quality. This is important because it affects how you breathe. The higher the level of AQ, the harder it will be to breathe; the lower, the better. According to EPA standards, if the air quality number is over 100, it's not good. If it's below 100, it's considered satisfactory air level.
Stay out of the sun. Look for shade to work out in.
Monitor your

heart rate

. If it gets too high, take a break.
Listen to your body. If your body is telling you stop or it's too hot, listen to it!
Stay inside if it's above 90. It's better to hit the gym than to put yourself in danger.
Bring water to your workout. Try to keep hydrating yourself as you work out; don't wait until you are thirsty.
Cool towels help. Take a cool, damp towel and put it over your head or around your neck.
Wear a loose-fitting hat. Wearing a tight hat holds the heat to your head, so in order to protect yourself from the sun, wear a loose-fitting hat that allows your head to breathe.
If you do decide to work out outside in the dog days of summer, do the best you can to take the proper precautions and protect yourself from harm. Listen to your body and be sure not to over-do it!
This blog was written by Amanda Bireline, Fitness Center Manager. To find out more about the NIFS bloggers, click here.