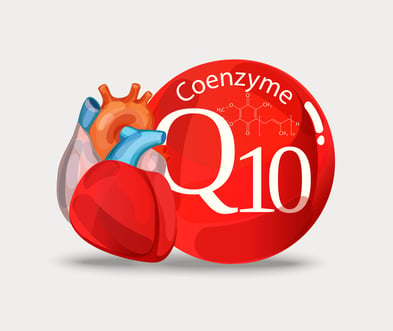 Coenzyme Q10, also known as ubiquinone, is a commonly used supplement by those with cardiovascular risks and disease, and especially those using statins. CoQ10 acts as a carrier in our cells to assist in oxygen utilization. It also assists enzymes in the mitochondria. This allows the production of energy in a cycle referred to as the Krebs Cycle, and hints at why the mitochondria are the "powerhouse of the cell." Some believe that those with heart failure have a buildup of reactive oxygen species (ROS), which can lead to adverse effects. Furthermore, they suggest CoQ10 antioxidant properties can combat the buildup of ROS. Additionally, CoQ10 is thought to balance calcium-dependent ion channels within the heart, which is critical for heart function. As far as supplementation with statins goes, people are led to believe that supplementing CoQ10 is essential because statins block the pathway that leads to CoQ10 production.
Researchers looked into these claims. Some found many studies that showed CoQ10 had no clear effect on how much blood the heart was able to pump (left heart ejection fraction), and other studies were inconclusive with poor research design. On the other hand, a Large study (a meta-analysis of clinical trials) revealed that those who supplemented CoQ10 had lower risk of death and increased exercise capacity, but no correlation between CoQ10 and how much blood the heart was able to pump. Lastly, another study observed those with heart failure receiving medical therapy. In addition to medical therapy, some of the participants received a placebo and some received Coenzyme Q10. Although the concentration of CoQ10 in the blood serum increased dramatically, those patients saw no greater effect in ejection fraction, peak oxygen consumption, and exercise duration.
Drug Interactions and Additive Effects
CoQ10 has been known to interact with Vitamin K Antagonists, such as warfarin, a commonly prescribed drug in cardiovascular disease cases. Some cases have shown that CoQ10 blocks the anti–blood clotting (aka anticoagulant) effect of Vitamin K Antagonists, especially warfarin, which can lead to fatal blood clotting (according to Lexi-Drugs Online). On the other hand, some studies have shown that CoQ10 has done the complete opposite to Vitamin K Antagonists and actually enhanced the anti-blood-clotting effect, which leads to excessive bleeding.
Side Effects
Some side effects reported include severe gastrointestinal (GI) bleeding, allergic reactions, headaches, vomiting, urine discoloration, and abdominal pain.
Further Research
Much of the research that shows a positive outcome when supplementing CoQ10 had small trial groups (not enough people). The number of participants in the trials, known as sample size, is too small for the evidence to be conclusive. Moving forward, is it possible to get a bigger sample size that can give conclusive results? As of now, many are torn on this topic.
The Clinical Bottom Line
There is not enough evidence to support the use of CoQ10 for treating heart failure or even lessening the risk of muscle weakness (myopathy) in those taking statins. Until more research emerges, I would suggest those with cardiovascular disease not take CoQ10, especially if they are taking a Vitamin K Antagonist. If you are torn about taking CoQ10, consider speaking with your Primary Care Provider and Registered Dietitian to see if it's right for you.
This blog was written by Sabrina Goshen, NIFS Registered Dietitian. To learn more about the NIFS bloggers, click here.