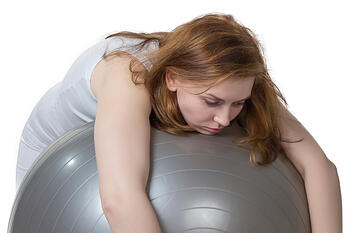 This is the time of year when everyone seems to be getting sick. A head cold, the flu, a constant cough, a sore throat, chest cold, sinus infection…you name it, it's around. I know when I am under the weather, one question that comes to my mind is, "Should I work out, or should I just let my body rest for a few days?"
For the avid exerciser, a few days may seem like months taken off your performance. There are lots of ways to look at this topic, and truly I think it depends on what type of illness you have. But let's take a look at a few things to help you determine whether working out while you are ill is a good idea or a bad one.
Definite No:
If you have a fever, you should definitely skip the workout. When you have a fever, raising your internal body temperature through working out can make you even sicker, so stay home and lay low. Typically, you are contagious for 5 to 7 days when you have a fever, so steer clear of the gym.
If you are vomiting or have diarrhea, do not work out. This is the time that it's most important to stay in bed and rest.
According to an article in Men's Fitness, if you are starting to feel sick and end up feeling worse after you complete your workout, cut back and take a break.
Possibly Yes:
If you have a runny nose or just a sniffle, it's most likely okay to work out. The Mayo Clinic says exercise may even make you feel better by opening up your nasal passages and help relieve nasal congestion.
Dr. Neil Schachter, a physician from Mt. Sinai Medical Center, has a good method to help determine whether you can work out. It's called the Neck Check. If your symptoms are above the neck, including a sore throat, nasal congestion, sneezing, and watery eyes, you are okay to exercise. Exercise does raise the body's immune system, helping to defend it and fight off illness.
The most important thing to do is listen to your body. If you cannot do something, then it is important to stop and don't try to force yourself to keep going. Know that it is okay to not work out for a few days if you are sick; sometimes resting the body is the answer. Oftentimes the human body gets run down, lowering the immune system, and causing you to get sick in the first place.
If you do choose to work out, just play it smart. Maybe consider a walk instead of a hard run, or a light bike instead of heavy weightlifting. The most important thing is to get healthy again so you can get back to your routine, so do what your body is asking you to do!
This blog was written by Amanda Bireline, Health Fitness Specialist. To find out more about the NIFS bloggers, click here.