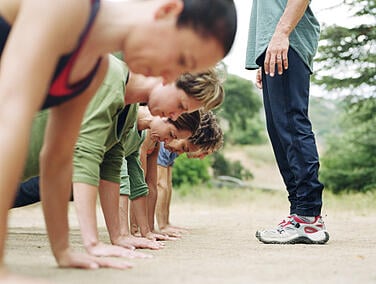 There is a fitness trend that has been bothering me for a long time, and in recent years it has gotten exponentially worse. There are exercise programs that have actually declared war on the human body, and by doing so, have widened the gap further between health and fitness.
I know that they are commonly linked, but please understand that health and fitness are not the same thing. You can have very healthy biomarkers and still be unfit. Likewise, you can have tremendous strength or outrageous endurance and be very unhealthy.
The Trend of Intense, Dangerous Workouts
This current version of "beating the body into submission" by the evil triumvirate of ego, willpower, and ignorance started with the media marketing experiment of P90X and its search for the limits of stupidity that people would pay for. At about the same time, there was the appearance of neighborhood boot camps that were conducted on strip mall parking lots and/or any available piece of grass that no one would be chased off of, led by unqualified trainers out to make a quick buck by riding the trend of selling pain to the fitness gullible. And then came the growth of CrossFit and its many copies selling to the male ego: SWAT Team, MMA, and Special Ops–inspired training so that "You can be the man!"
The common theme of this period is finding the limits of discomfort that the public can be convinced to invest their time, energy, and money into by marketing to the ego's desire for quick and nearly impossible change by violating the basic laws of human biology and twisting logic to arrive at "the-end-justifies-the-means" training: No Pain, No Gain! Train to Failure. Train Hard or Go Home!
Currently, we have a cultural fitness myth that is doomed to fail because it is not sustainable. The human body cannot live on the "edge" for long without breaking down. The changes we desire actually occur during recovery as a result of proper exercise stimulus. More stimulus is not better; it is just more, and too much can retard recovery and greatly increase the risk of injury.
Jonathan Angelili wrote a very thoughtful blog published on Greatist titled, "The Massive Fitness Trend That's Not Actually Healthy at All," where he states that the fitness industry has come to "glorify exercise as an all-out war on the body." Instead of living within our bodies and having fitness and health evolve naturally, the ego/mind plays the role of sadistic coach intent on whipping the lazy body to reach some arbitrary goal as quickly as possible, at which time another arbitrary goal is launched, so the beatings continue.
P90X, boot camps, and CrossFit didn't create this antagonistic attitude toward the human body, but rather they simply took advantage of it. We, as a culture, have had a very long history of the mind being separated from the body and the belief that success, however you define it, must be chased down and wrestled to the ground at all cost, including the loss of health. The belief is "the more you want it, the more you must sacrifice to get it." Sadly, way too many people are quite willing to sacrifice their health for what they have been convinced is The Standard for Fitness, not realizing that health and fitness can be diametrically opposed.
Pain Is a Great Teacher!
Punch a shark long enough in the nose and it will eventually bite you. Living on the extreme edge of training because it makes the ego feel special and supported by the mistaken beliefs that more is better and more often is better yet, a breakdown is inevitable. If you want to put a smiley face on this situation, pain is a great teacher.
Pain gets your attention in a way that nothing else can. Movement can no longer continue without a constant reminder that something is very wrong, and more than likely, you are responsible.
The mindset that led to the pain happening in the first place will begin by muscling on: icing, taking OTC pain relievers, and even metaphorically just "rubbing dirt on it." You know, just suck it up and move on. Next will come a quick trip to a doctor for the next level up pain relief so that the same training can continue without missing a beat. If none of that works, then comes the specialist with X-rays, MRIs, PT, and possible surgery. That same training that got you here has stopped and the search begins for "what can I do now?"
Like a shop teacher accidentally cutting off his fingers with a band saw: Oops! At least, you're helping the medical economy.
There is inherent risk in exercising. Most waiver forms state that exercise can even cause death, extremely rare but still possible, but the injuries I'm referring to come under the heading of "Can Be and Should Be Avoided" with an eye toward injury prevention.
Reasonable goals, properly designed workout programs, and just some plain common sense can go a long way to safely reaching your goals with few injury setbacks. If you are involved in fitness for the long haul, these three elements can lead to an enjoyable life of fitness and health.
Just ask yourself two questions:
Is what I'm doing striving toward health and fitness?
Am I learning to live within my body and experiencing greater joy while on this journey?
If your answers are yes, cool, you're on your way.
If your answers are no, then "Sir! Yes Sir! May I Have Another!"
This blog was written by Rick Huse, NIFS Health Fitness Specialist. To find out more about the NIFS bloggers, click here.