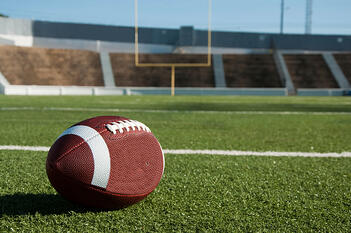 The fall season is probably my favorite time of year. The weather is just how I like it, crisp and comfortable during the day and cool at night. The colors that arrive with the turning of the leaves are a demonstration of how creative Mother Nature can be. There is another phenomenon that takes place during this time of year that I anticipate all summer long, and that is FOOTBALL!
This is the time of year that all levels, from peewee to the pros, are padding up and participating in a game that I have loved and played my entire life. I took my first snap when I was 5, and the game has been a part of my life ever since. From the time I was an undersized defensive lineman, a coach, and now as a super fan, football has provided so many fond memories and learning opportunities.
With football in full swing, I find myself thinking of the times I spent in two-a-day practices, Friday night games, and early Saturday film sessions. Flash forward to my time as a coach of some very talented young men as they got started on their football journey as I did so long ago. Through all of these experiences and all of these years being around the game of football, I have learned so much about so many aspects of life that I have carried with me, and which has had tremendous impact on my life. Lessons of character, hard work, and being part of something bigger than yourself are ones that I would have never learned in a classroom. I would like to share with you the top 5 lessons I have learned from being around this great sport of football.
Setting Goals
Preseason was a time to set goals for what we wanted to accomplish as a team for that season. We would usually post these in some fashion that acted as reminder of what we were working so hard for. This was a very important step toward our success and I was lucky enough to have coaches who held the standard of knowing what you want to accomplish, writing it down, and keeping it visible. Of course my goals are much different these days, but the process is still the same. Write down your goals and make them visible as a daily reminder of where you want to go.
Be On Time
This should go without saying: punctuality says a great deal about you as an individual. A huge lesson I learned is that you don't let coach beat you to the practice field. You were to be strapped up and ready to go at the start of practice, or you were given a choice of "up/downs" (you know these as burpees) or "gassers." Either one was not very fun in full gear. To this day, I get pretty anxious if I feel I may be late for whatever it may be. I learned long ago that it is always better to be waiting on whoever I am meeting with—not the other way around. Burpees still are not very fun!
The Bigger the Dream, the Better the Team
During my last season as player, our team was nicknamed "The Dirty 30," and it was a name we embraced fully. This name had nothing to do with us playing "dirty"; it illustrated our small team of 30 varsity players doing what it took as a team to reach our pinnacle. We all played a role in any successes—or failures, for that matter. We embraced that responsibility as a team, and we worked together to make us better. What I learned then is something that is apparent to me every day: you can't do it alone. I talk a great deal about forming your "Power Circle" and using those like-minded individuals to help you succeed in life in any capacity. Making the others around you better and being more excited about their successes than your own will always pay huge dividends.
Don't Be Afraid to Make a Mistake
"Fly around and don't be afraid to make a mistake" was a phrase I heard a lot during my days as a player. Being in your head too much and holding back for fear of missing an assignment or failing usually led to missing that assignment and failing. More importantly, it would rob you of the opportunity to learn. I learned a huge lesson in those days, that success is a result of failing. In his book Sometimes You Win, Sometimes You Learn, John Maxwell defines adversity as the catalyst of learning, and problems are opportunities of learning. If you blow an assignment on one play, in a matter of seconds you get the opportunity to learn from that mistake and not commit it again on the next play. That's learning, and it's that learning that leads to success. Mistakes are inevitable in life, but growth is optional. Don't shy away from risk; embrace it.
Being Yelled at Is a Good Thing
One of the biggest lessons I learned playing the sport I love so much is that when coach is yelling at you, it's a good thing. I remember being told a few times that when coach stops yelling at you, that's when you should be worried. At the time, I thought my coach was crazy for saying that, because it was never fun when coach got inside your facemask and ripped your head off.
But soon after leaving the game and moving on with my life, I realized what my coaches meant. They believed that I was better than I was performing at that particular moment, and they were not going to let me quit or be satisfied with mediocrity. So when coaches would stop yelling at you, it meant that you might have peaked and their help would more than likely not make you better. I know it may sound weird, but I think it's okay to be told "you suck" (not actually, of course) from time to time. It gives you a little knot in your stomach, and it's that knot that makes you want to be better. I think it's when we lose that knot in our stomachs that we have, at some level, given up. If you have lost that knot in your stomach, reevaluate some things and find a coach to call you out now and again.
There are countless other lessons I gained from playing the great game of football. These are the top five that, without learning them, I wouldn't have been able to accomplish what I have thus far. Nor would I understand that learning and growing are no way near over. I hope you were able to gather some takeaways from the lessons I have described. If nothing else, please leave with this: Never Be Satisfied!
To see how NIFS can help you train for any competitive sport, click here to learn more.
This blog was written by Tony Maloney, Health Fitness Specialist and Fitness Center Manager. To find out more about the NIFS bloggers, click here.