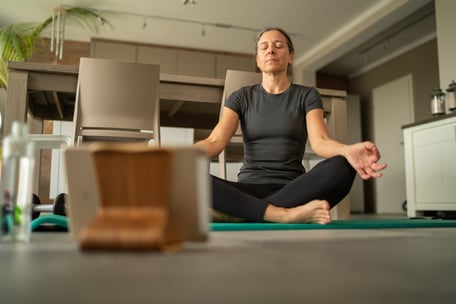 Take these next few weeks or so and use them to your advantage. We know this is an extremely challenging time, and we want to make sure you feel like you are taken care of. Circumstances are tricky right now, so even if you adopt one new technique, consider that a win! Don't expect yourself to "eat the rainbow" every day, feel like you fall asleep easily at night from a relaxing day working at home in your pajamas, or get in a 10-mile run each morning. While you shelter at home and stay healthy, keep these tips in mind.
Create balanced meals with shelf-stable products.
Use fresh produce first, and if you feel like you won't finish your fresh produce before it spoils, freeze it. Try to make half of your plate produce such as spinach, tomatoes, green beans, peppers, or cauliflower. Add some protein like beans (canned or dried) or tofu, and quality carbohydrates like sweet potatoes, butternut squash, potatoes, or quinoa. Remember, beans and grains will get you all of the essential amino acids you need, so don't shy away from trying shelf-stable beans in place of your usual fresh meat. (Here are some meatless meal staples to look for.)
Have a plan for your meals.
Think "first-in, first-out" and make sure to use your fresh produce and proteins first in order to prevent spoilage. Create a meal plan list for the week and utilize one meal's leftovers to create the next night's meal to avoid wasting food. For example, if you had plain white rice to add to a veggie-stir-fry on Monday, consider keeping some white rice on the side to make rice and bean burritos for dinner the next night!
Keep food fun!
Get the family together and have fun experimenting during the week to see who can come up with the most creative meals. It's like an episode of "Chopped" in your kitchen! You never know what some instant mashed potato flakes mixed with some flour and spices could turn into—potato pancakes perhaps. And make sure to not only keep healthy snacks in the house like nuts, carrot sticks, or apples for nourishment, but some of your favorite comfort foods will go a long way in lifting everyone's spirits. We have had a lot of fun making popcorn in a pan and homemade bread this week.
Line up activities to do.
Plan a play date for the kids via FaceTime or Zoom. Schedule a remote "girls' night out" and chat in the basement while watching the same TV show. Don't go more than a few days without checking in on your friends.
Try meditation and stress-reducing activities.
There are several apps on the market that aim to help you meditate and fall asleep at night. It's worth a try just to download one and listen while you are in bed at night. Coloring, doing puzzles, going for walks, and virtual therapy sessions with a counselor are other ways to put your mind at ease.
Stay healthy, stay calm—we've got this!
This blog was written by Lindsey Hehman, MA, RD, CD. To learn more about the NIFS bloggers, click here.