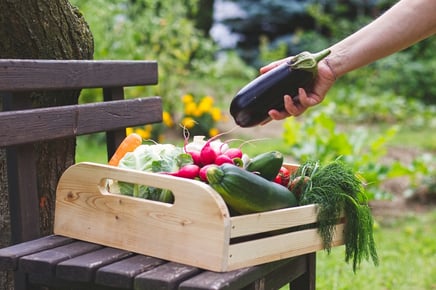 It is important to get in the nine recommended servings of fruits and veggies each day. This can definitely be challenging. However, in the summertime when produce is readily available all over the country, this is the time to make it a priority to reach that goal! These fruits and veggies are also at their nutrient peak, which is more reason to load up and fill your plate with these colorful items!
Tomatoes: Filled with antioxidants and Vitamin C but most importantly the phytochemical lycopene, which is a cancer fighter.
Zucchini: This vegetable has a fiber called pectin, which has been linked to increasing heart health and lowering cholesterol.
Watermelon: This fruit is loaded with…water, which this time of year with high temperatures is important to help stay hydrated. It contains lycopene, which is useful for preventing skin cancer.
Oranges: Citrus fruit is loaded with potassium, which is important to replace when you lose it through sweat during the summer months. Also, since oranges are 80 percent water, they can help keep you hydrated.
Cantaloupe and honeydew melon: More fruit loaded with water to help keep you hydrated. These melons are high in Vitamin C and potassium, and honeydew has high levels of B vitamins.
Raspberries: This fruit is typically very pricey in the off season, so take advantage of the lower prices and get 8 grams of filling fiber per cup. They are also loaded with Vitamin C.
Peaches and nectarines: Loaded with antioxidants, Vitamin C, Vitamin A, and fiber, these sweet treats are nutrition powerhouses and the perfect portable snack.
Dark, leafy greens: Fill up on raw veggies versus steamed this time of year, especially greens, and load up on much-needed carotenoids. These convert to Vitamin A and protect your skin from sun damage.
Strawberries and blueberries: These sweet berries are filled with flavonoids. They increase blood flow to the skin and decrease sensitivity to light, which can improve the skin's appearance.
Try some or all of these produce powerhouses soon when the cost is cheaper and they are more readily available. Enjoy the health benefits along with the fresh flavors of these fruits and veggies.
This blog was written by Angie Mitchell, RD, Wellness Coordinator. To find out more about the NIFS bloggers, click here.