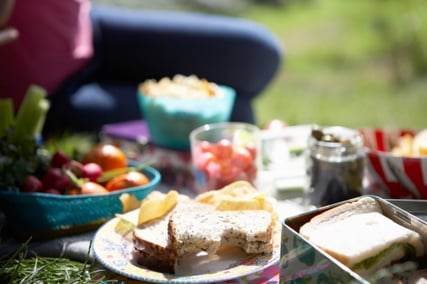 During the summer, the days are stretching longer, the temperatures are rising, and the sun is shining brighter! It's time to enjoy the outdoors. Whenever I visit bigger cities, I notice that their parks are packed with people enjoying picnics, which is one of my favorite things to do to explore and discover a new outdoor space. So let's bring the picnic to our local parks! Surprise your significant other, take the family out for an afternoon in the park, or enjoy time with friends playing football or frisbee.
Equipment to Bring

When planning a picnic, make a list of items you will need, especially if this is your first time. Here are some items you may need to bring:

Plastic or paper plates

Can opener and corkscrew

Disposable eating utensils

Garbage bag

Reusable, heavy-duty serving pieces

Roll of paper towels

Disposable plastic cups

Salt and pepper

Paper or cloth napkins

Thermos for drinks or soups

Bread knife or sharp knife

Insect repellent

Wet napkins

Matches

First aid kit and sunscreen

Tablecloth

Small cutting board
Healthy and Delicious Picnic Food Options
Think healthy! Typical picnic fare—such as potato salads, greasy burgers, chips, and beer—can be high in calories and fat. You do not have to compromise your waistline when planning a picnic. Try some of the following tips to keep your meal tasty and light.

Appetizers:

Cut up veggies—carrots, celery, broccoli, and green and red pepper—and bring along a low-fat dip. Brightly colored veggies will maximize the amount of vitamins you get in your meal.

Good options for salty snacks include crackers topped with peanut butter, b

aked tortilla chips and salsa, and n

uts and dried fruit mix.

Try a garden salad with vegetables, beans, and fruits, topped with nuts and an oil-and-vinegar dressing.

Avoid creamy pasta and potato salads. They are high in fat; and if left in the heat, can create an ideal medium for bacterial growth, which can cause

food-borne illness

.
Entrees:

Try pita sandwiches or wraps. Pair a protein source—turkey, chicken, lean ham, tuna or salmon—with lettuce leaves and vegetables such as chopped celery, peppers, onion, and shredded carrots.

Replace mayonnaise with mustard or drizzle with olive oil and vinegar dressing.

Salads topped with flaked tuna or salmon and oil and vinegar dressing.

If your picnic area has a

barbecue grill

, try grilled chicken breasts, lean hamburgers, turkey burgers, or veggie burgers. Opt for a whole-grain bun instead of white.

Grill vegetables on a skewer. Try red or green peppers, zucchini, mushrooms, and onion.

Corn on the cob is an excellent choice to add to an entree. For added flavor, use garlic or onion powder. Grill for a great taste.
Desserts:

Skipping out on the high-fat treats doesn't mean you need to miss out on a summer sweet.

Try a colorful fruit salad with peaches, mangoes, berries, kiwi, and watermelon.

Take along angel food cake and top with mixed berries.
Drinks:
Be sure to drink at least eight glasses of water per day for

proper hydration

.

Sweet drinks can increase thirst and add unwanted calories. Instead, try natural fruit juices diluted with water.

Try to limit alcohol intake, as alcohol can be dehydrating and high in calories.
Get outside, be active, and enjoy a tasty and healthy lunch at a local park!
This blog was written by Angie Mitchell, RD, Wellness Coordinator. To find out more about the NIFS bloggers, click here.