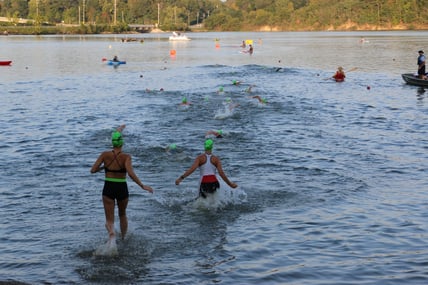 Does the idea of swimming in the nice early-morning summer sun excite you? Does riding along the hilly but beautiful road at Eagle Creek get you smiling? Does doing a challenging run through Eagle Creek Park drive up your endorphins? Then you need to think about doing a triathlon this year.
"Why this year," you ask? I say "Why not?" No one is getting any younger, and IT'S OUT THERE. This is a real comfort zone buster! Life is about challenges big and small, so here's a great way to get out of your comfort zone. Here's all ya gotta do.
Get into the Water
Get in the pool or a lake; stop by Eagle Creek, Morse Reservoir, or any body of water you can get into. Go for a swim. If you are awful, keep working, and read blogs about swim drills. Plan for at least 4 to 12 weeks of prep. The longer the race distances, the longer the training.
Get a Bike

Next, find yourself a bike. If you have a really nice bike, this should not be a problem. If you don't even have one, go to one of our fine bike shops (we have some really good ones here in Indy) and get a bike. Get your tires aired up, oil the chain, and PLEASE check the brakes (and get those tuned up again). Then get on those wheels and ride, enjoying the sun and the spring breeze on your face.
Put on Your Running Shoes
After that, put on your running shoes and hit the road, trail, or track and start jogging. Again, start slow and then go.
Prepare and Have a Plan
AAHH… it seems so simple as you read this, and it can be, but to have a ton of fun on race day you need to prepare. Try to follow a plan to get you to the finish line with a smile. Work backward from your race day. You need to be able to swim 500 meters, ride your bike 10 miles, and then run 3 miles. Plan your workouts for distance or time, the latter of which is often easier to calculate.
This is the 14th year of our NIFS Go Girl TRI-training Program that prepares you for the Go Girl race at Eagle Creek in August. Our training program is the city's longest-running training program for the race. Are you jumping on board this year? Get registered today!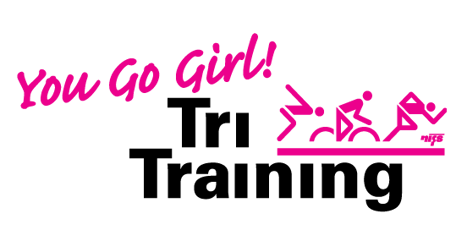 This blog was written by Kris Simpson BS, ACSM-PT, HFS, personal trainer at NIFS. To read more about Kris and the NIFS bloggers, click here.