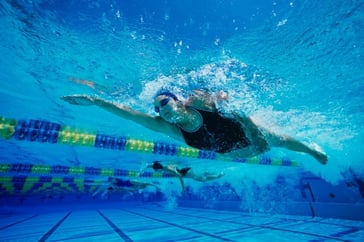 Nothing sounds more dreadful to me than putting on my suit to jump into the pool to do some lap swimming on a sub-20-degree winter day (unless, of course, it's a belly-smacker challenge—then I'm in!). But with the vast benefits that come from swimming, the draw tends to be a little bit enticing (and here are some ideas for finding motivation to swim). When you are looking for what to do with your workouts over the off season, consider giving swimming a try.
Benefits of Swimming
Swimming can offer more benefits than I have time to list, but let's take a look at what I think the top 6 are. And if swimming really isn't your thing, keep on reading; I'll share some other pool workout ideas that don't involve lap swimming.
Builds endurance, strength, and cardiovascular fitness. Considered to be one of the greatest total-body workouts, swimming covers pretty much all the basics that you might want in a workout.
Helps build bone mass and tone muscles. While many think that because swimming is non-weight-bearing, bone density cannot increase, studies have shown differently. Swimming also helps to tone muscles of the body just like strength training does.
Gets heart rate up without the impact on the joints. Most exercises that are cardio based like running and biking take some serious impact on the joints. "Taking the weight off" in the pool allows you to get the blood flowing through your body without the impact from your body that you get from other cardiovascular exercise methods.
Aids in flexibility. With the repetitive stretching that takes place in the different swimming strokes, you can increase flexibility through swimming laps on a regular basis.
Promotes high caloric burn. Depending on the intensity, duration, and stroke, swimming can burn equal to or more calories than going for a run.
Good for the psyche. Like all exercise, swimming releases endorphins into your body, which bring those feel-good emotions. With the stretching that takes place during the strokes along with the rhythmic breathing, swimming can actually help you to relax.
Natatorium Lap Swimming is Now Included in Your NIFS Membership*!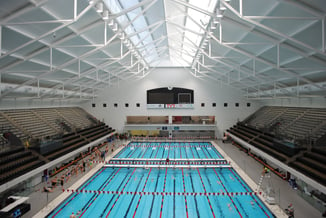 Other Water Workouts
Maybe you never really learned how to swim, or the water intimidates you. Don't worry; there are plenty of other water exercises that you can do to get yourself into the pool and comfortable in the water without sacrificing a good workout. To name a few, you can try water aerobics, treading water, step in water (this is like a step class where risers are put into the bottom of the pool), aqua jogging, lap walking, and shallow-water runs.
Take some time to explore the Natatorium pool! NIFS now offers unlimited use of lap swimming at the IUPUI Natatorium (*eligible members only, see details). See the NIFS service desk to get started, and take your off-season training to a new level!
This blog was written by Amanda Bireline, Fitness Center Manager. To find out more about the NIFS bloggers, click here.