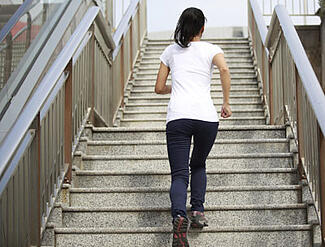 What has become of our society and fitness? We hear reports all the time that state that the obesity epidemic is only getting worse. In the not so distant past, say around the time our grandparents or great-grandparents were our age, obesity was pretty rare. The average woman would eat seemingly 4,000 calories per day and stay relatively thin. By today's standards, that same person could be eating 1,800 calories per day and be 20 pounds overweight. What gives?
People Are Moving Less
The short and easy answer is that we are becoming lazier. I do not disagree with that statement, but we should also look at how our environment promotes a sedentary lifestyle. Modern conveniences have abetted the downfall of fitness levels around the world. The invention of the elevator caused people to take the stairs less and less (or not at all); the invention of the microwave oven allows us to barely lift a finger to prepare a meal, and the invention of the TV remote control, although great, makes it so we do not have to get up and walk six feet to push a button on the TV set. I don't feel it necessary to throw these inventions under the bus, but fitness-conscious individuals do have options—good options that can improve health and burn more calories.
Thinking back on what it was like for our grandparents or great-grandparents, fitness and working out wasn't really even necessary because there were many chores around the house or farm that required manual labor. Need water? Carry two buckets of water across the field every day. Need food? Hoe, sow, and reap the field. Need new clothes? Take a 2.5-mile walk into town and back. They did not need a gym membership to stay fit.
Today's modern conveniences and sedentary work environments have made it so we barely move any more than we need. Calorie burning slows when the body's lean body weight (fat-free weight) decreases, affecting the Resting Metabolic Rate (RMR). This decrease, in turn, causes us to pack on extra, stored body-fat weight.
Find Ways to Burn More Calories
My suggestion to anyone wanting to make a difference in their life is to start by being conscious of their environment. Taking the stairs can burn around 10 calories per minute (and here are some other easy ways to burn calories). Surprisingly, you can burn calories cooking, at a rate of 100 calories per hour (and this site will show you how many calories you burn doing other activities). Let's face it, remotes will not go away, but we can do various exercises during commercial breaks, like squats, crunches, or pushups. You could even squeeze in a few exercises of yoga while watching your favorite game show.
When options arise, make the effort to challenge your body. Do this every day for the best results and encourage others (in a nice way) to take a step forward.
This blog was written by Thomas Livengood. To find out more about the NIFS bloggers, click here.