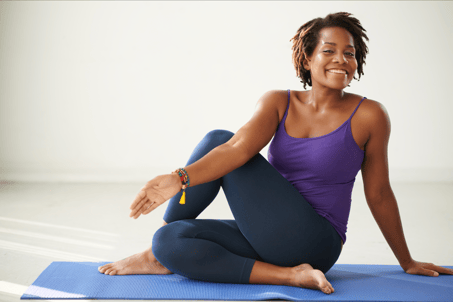 Many of us know that yoga serves as a form of physical activity that increases flexibility for participants. Yoga focuses on putting the individuals in body poses that elongate muscles from head to toe. While this is very true, and I encourage anyone looking to improve their flexibility to incorporate yoga into their weekly workout routine, yoga has so much more to offer than just improvements in flexibility. In fact, the original context of yoga had very little to do with improving flexibility at all.
Originally the purpose of yoga was spiritual development practices to improve mind-body awareness. Over the years, however, many have begun to focus more on the physical benefits of yoga than the mental and spiritual benefits, which has led the practice of yoga to take on newly defined purposes. However, it is important to understand the mind-body awareness benefits of yoga, as they can be just as if not more beneficial than the physical attributes. Let's take a look at what some of those hidden benefits are.
Nervous System and Digestive System
One major focus of yoga is to become more aware of and to control your breathing patterns. By learning to control breathing, you can move from the sympathetic nervous system to the parasympathetic nervous system almost instantaneously. The sympathetic nervous system is responsible for the "fight or flight" response, or the part of your nervous system designed to respond to stress. When the sympathetic nervous system is in control, heart rate and blood pressure rise as a response to fight a possible threat. You want to limit the activity of this side of the autonomic nervous system. This is important because when the parasympathetic nervous system (or rest and digest) is in majority of control, your heart rate, blood pressure, and stress levels lower while your digestion rate increases. Once your body reaches this relaxed state, anxiety becomes something of the past. A faster digestive system helps your body make the most of nutrients found in the food you consume while regulating regular bodily function.
Focus and Creativity
If you ask an experienced yogi what the hardest part of yoga is, you might be surprised by their answer. Typically, one might assume that holding the different yoga poses would be the most challenging aspect; however, there is an even bigger challenge, which includes focusing—on nothing. Meditation is another crucial component of a successful yoga session. Experienced yogis are able to focus their attention on nothing but their inner self; all outside distractions are eliminated, at least temporarily. This may sound very simple, but if you have ever tried to completely clear your mind of all inner thoughts besides what you are feeling at that exact moment, you may be able to grasp how difficult a task this is to successfully complete.
However, once one is able to control their center of attention, they will find their ability to stay focused on one particular task (especially those that require attention to detail) becomes better and better. In a 2012 study published by the journal Frontiers in Psychology, researchers were able to determine those who practiced meditation for at least 10 minutes a day for up to 16 weeks performed better with divergent-thinking tasks than those who did not participate in meditation at all.
Strength and Muscle Definition
Just in case you are not fascinated by the mind-body awareness benefits of yoga, there is a less discussed muscle defining and strengthening benefit as well, for those who are solemnly interested in the physical benefits. Who knew that yoga is actually great for improving muscle definition, and in rare cases even muscle hypertrophy? Because yoga focuses on moving and upholding your own body weight in various positions, it serves as a great strength workout in addition to flexibility and mind-body training.
Unlike traditional resistance training, which focuses primarily on the concentric contraction (the muscle contracts as it shortens) of a muscle, yoga focuses primarily on the eccentric contraction (the muscle contracts as it stretches) of a muscle. The eccentric contraction component gives muscles a more elongated look, while concentric contractions give muscles a shorter, more bulgy, look. If you have ever seen an experienced yogi's physique, it may resemble that of a gymnast, basketball player, or even a track athlete versus those who participate in more traditional forms of resistance training, who might resemble a football player or bodybuilder with more muscle hypertrophy.
Yoga tends to train small and large muscles all over the body due to its high demand for muscles to work in conjunction with each other to perform the different body movements in various planes of movement. This is good for the reason that you often tend to work smaller muscle groups that may get little to no attention when practicing machine-oriented resistance training. With a machine that focuses on a one-dimensional plane of movement, it's often impossible to train multiple muscle groups at the same time. Therefore, yoga tends to be a better option for improving overall body strength along with achieving a more proportional muscular physique.
Other Wellness Benefits
Some additional notable benefits of yoga also include (but are not limited to) immune system boost, pain management, increase in gray brain matter and increase in balance, and function ability. As noted above, the mental and nervous system benefits of yoga must begin to take back priority. Although improving flexibility can be a great thing, many have found that these additional benefits are what separate this form of physical activity from any other form.
This blog was written by Darius Felix, Health Fitness Instructor. To find out more about NIFS bloggers, click here.