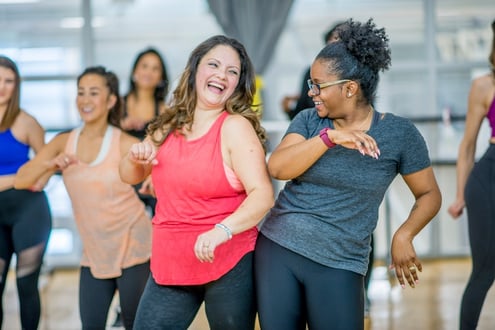 "You've got this!" "Keep it up!" "So strong!"
Ever come to your fitness class and hear those positive, motivating words? How do you feel in that moment?
Motivation and positivity have been proven to help lead healthier, happier lives. We often come into a gym and feel strong, motivated, and positive in that moment; but are you taking what you learn into your daily life? Here are some tips and examples of leading a happier life not just during your gym time, but out of the gym!
Be mindful about positive thoughts.
When you hear words that make you smile and feel happy, are you listening to them, or are you letting them come in one ear and go out the other? When we mindfully hold onto positive thoughts and let go of the negative, we lead a more positive life. Can you replace three hurtful or negative thoughts with three new, positive thoughts? Try it! It's like spring cleaning for your brain!
Surround yourself with positive people.
It has been studied and seen that you are who you hang out with. During your daily life, are you surrounded by negative or stressful people? Can you engage in more activities with people who make you feel amazing and happy? Maybe that's replacing an hour of sitting on the couch watching negative news stations or judgmental reality television shows with a yoga class that encourages you to breathe and relax. List people, places, or things that often make you feel down or negative, and make a list of people and activities to engage in that make you feel good and positive. Simply replace the negative activity with the positive one. Most importantly, be honest and fearless.
Are you being negative?
Just as you'd want to be around positive people, don't you think others want to as well? If you are always talking about being stressed or tired, evaluate what in your personal life is making you stressed and tired. What do you need to do to turn into a positive, full-of-energy person? Finding balance in life is a challenge, but it's possible if you dedicate time to making little changes. Set your mind on your goals and follow through.
Just do it.
What's holding you back? Studies show that changing habits can be challenging, but is not impossible. It takes a little work. Try to adopt a new positive habit each week. Your options are endless. Maybe that's giving your coworkers a high-five, writing down an inspirational motivational quote every morning as a reminder of your goal, starting your day in a workout class that promotes positivity, volunteering and helping others, or so much more. DO YOU—just do it! Letting go of others' judgments and figuring out what makes you feel best and happiest and doing those things will lead to a happier life.
This blog was written by Brittany Ignas, BS in Kinesiology, 200 Hour Yoga Alliance Certified, Stott Pilates Certified, and Fitness Coordinator. To find out more about the NIFS bloggers, click here.