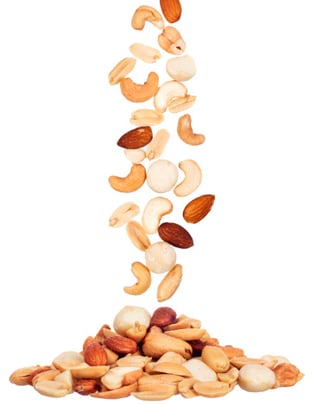 Nuts, basically one of the original food groups and predating even the most basic diet, have been a part of human existence since the beginning, and there is good reason. They taste good and are loaded with nutrients. The properties and benefits of nuts vary based on each individual nut, with some options being a little healthier than others.
Nuts Are Healthiest Without Embellishment
There are some ground rules that I would like to set regarding healthy nuts.
Try not to add chocolate to the equation. Although chocolate has its good qualities, we also know that added calories would diminish our gains from the nuts.
Salt, like chocolate, has added value in taste but is not recommended for individuals who are heart conscious. For that matter, I don't recommend added anything, whether it be chocolate, salt, sugar, etc.
Health Benefits of Nuts
"Now wait a minute, this sounds like a lot of work," you may say. This is where you are mistaken. Eating nuts can be an enjoyable way to get variety in your diet and healthful nutrition. For instance, almonds, cashews, pecans, brazil nuts, macadamias, pistachios, hazelnuts, and walnuts boast tons of benefits, including but not limited to fighting inflammation, improving digestion, raising immunity, lowering LDL, fighting cancer, and even making coffee taste better.
Nutritional Information About Nuts
Nuts can differ in size, shape, texture, and taste, but overall, they are fairly similar in calories per ounce and fat. The pistachio weighs in pretty light on the calorie scale at about 160 calories and 14 grams of fat per 50 nuts, while the Brazil nut is 185 calories and 18 grams of fat for 5 to 6 nuts. The healthy properties of the Brazil nut, though, outweigh the difference in that they contain a fair amount of selenium (which, in recommended doses, has been linked to fighting certain cancers).
With all the benefits nuts pose for our health, it is easy to see why they belong in the Mount Rushmore of edibles. Do yourself a favor and accentuate your diet… because nuts are taking over!
This blog was written by Thomas Livengood. For more about the NIFS bloggers, click here.