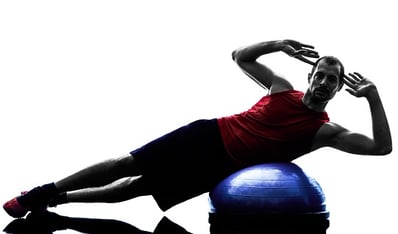 Greetings, NIFS friends. We have passed the midway point in the calendar year 2016, and I hope that you have been successful in meeting some of your yearly goals as well as making new ones. During this time of year, we find outdoor and recreational exercise more readily available and appealing, understandably, and because of this, there is time for the occasional spare moment for yours truly to ponder (by ponder, I mean BLOG!).
This series will elicit memories of fitness past, turning back the clocks to years past as fitness was evolving quickly to what it is today. We will look at the sometimes-crazy equipment trends, clothing necessities, what worked, and what did not work. Sit back, relax, and enjoy a stroll down memory lane.
2006: The Rise of Functional Training, Tai Chi, Pilates, and More
Our first stop is 2006, which seems not too long ago, but it has been 10 years already. What we do have is plenty of information on the topic thanks to the evolution of technologies of the times (the World Wide Web, for instance). The year 2006 saw many positives as well as negatives. Functional training as we know it today was still in the early adoption stages for many old-school fitness enthusiasts. But as we saw more and more benefits of this training ethos, many people jumped aboard.
Thankfully, those pioneers were able to show us that no matter how fit we think we are, there is still room for improvement. Along with tai chi, yoga, and Pilates and a byproduct of functional training ideas, BOSU became an instant fitness trend providing a new type of workout that incorporated sound body, mind, and balance. Today, we find BOSUs are still in high rotation at NIFS as well as among some of the top fitness professionals in the world.
Fad Diets of the Recent Past
Although we saw some great fitness-related breakthroughs, there were still some concerns when it came to nutrition and dieting. Fad diets, which had been all over the board for decades, brought us a couple of interesting trends that proved to work but were not without consequence and danger. The "low-carb" diet, which relies heavily on protein consumption with very little carbohydrates, showed promise when people began losing weight, but the cost ran high as individuals began experiencing an increased risk of coronary disease.
Another trend, the "grapefruit diet," wanted us to eat a somewhat unfortunately sour piece of fruit to see our weight drop. This seemed good in principle, but time has shown that balanced nutrition is still king. Conversely, gyms adopted catchy marketing phrases to promote themselves such as, "diets don't work." It's a misrepresentation of the truth, which is that we are all on diets (some are not as good as others, though).
All in all, there was little to be learned or gained from this time period in nutrition. Many people wanted the quick fix or magic pill to make all the bad stuff go away and accelerate the good stuff beyond what is considered good or normal. This seems to still be the case today, but there are always going to be those people who do not want to work for their fitness gains.
The More Things Change…
As you can see, there are many similarities between today and 2006. There is also an equal amount of topics we would like to move away from, which isn't all bad considering we learn from our mistakes. The emergence of healthy mind and body really sticks with me as well as a movement toward functional training. Only time will tell how the new fitness trends of today will stack up and be viewed 10 years from now.
If this blog has been a trip down memory lane for you, please share your yesteryear experience below and request a specific time/year for us to visit in a future blog so that we can continue together on this trip down memory lane.
As always, muscleheads rejoice and evolve.
This blog was written by Thomas Livengood, Health Fitness Specialist. To find out more about the NIFS bloggers, click here.