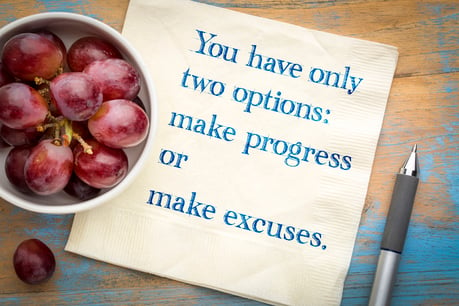 After the New Year, springtime is another time that motivates us to make a fresh start. When the weather finally starts to warm up and the breeze is blowing, we want to throw open the windows and let the rebirth all around us revitalize our homes and our spirits.
Because it's only natural to clean out the old during this time of the year, it's also a great time to come to terms with your excuses for not getting fit and healthy. Excuses pile up just like the clutter that people accumulate in their houses, but it's time to come clean.
What Is Your Excuse for Not Putting Your Health First?
Maybe it's one of these?
I don't have time to exercise.
This is probably the most common excuse that we hear. You are too busy. You have work all day or all night; you have to take the kids to school, pick them up from school, and take them to sporting events; dinner needs to be cooked; who's going to go to the grocery store; and so on.
Seriously though?
One of those excuses, if not all of them, is something even fitness professionals deal with on a regular basis. However, if you do not exercise, you will almost certainly begin experiencing the illness and disease that come from an inactive lifestyle. When the symptoms start to present themselves, you will have to schedule a doctor's appointment, drive to the appointment, wait to be seen, schedule possible additional tests at the hospital, and wait for your prescriptions to be filled at the pharmacy. With chronic illness, this scenarios will be played out month after month after month, into a vicious cycle. And that, my friends, can take even more time than exercising.
There's no doubt we find time in our busy lives to attend to our medical issues. Will you make time for them? Well, of course! It's easy to make sure to adjust your schedule and your life to accommodate illnesses. So why not just adjust your schedule now to accommodate the prevention of these illnesses through exercise and lifestyle change?
The truth of the matter is that if you do not make time for exercise, you will have to make time for illness. And let's be honest, exercising takes a lot less time out of your life than sickness. Do the math: there are 24 hours in a day = 8 hours of work and 8 hours of sleep, and there are still 8 hours left. You can do a great deal in 8 hours.
I don't like to exercise.
Do you like feeling tired? Do you like having no energy? Do you like being overweight or not healthy? Do you like visiting the doctor? Or undergoing medical tests to figure out what is wrong? You will feel tired, be overweight or unhealthy, visit the doctor more often, and undergo medical tests if you continue to let your lifestyle decline by not exercising.
I don't have any energy to exercise.
The more unfit you are, the less energy you have. When you don't have much energy, the last thing you can imagine yourself doing is exercising. Until you become more active, you will not have the energy you are longing for. As you begin exercising, you will start to see a difference in your energy levels. Until you start moving, you won't start feeling better.
It's just not the right time to start working out, I will start when…
I get some better clothes.
Summer vacation starts.
The kids are back in school.
The house is organized.
My work schedule calms down.
I have more time.
Life calms down.
The kids get older.
The weather changes.
Someday… just not today!
The list can go on and on, but in all honestly, it will never be the right time to start a new routine. Start now and make it right!
You just have to start!
Make the Decision to Stop the Excuses
Making the decision to stop hiding behind your excuses is something only you can do. But by making a clean sweep and tossing out those excuses, you are setting yourself up for a better and healthier lifestyle. The fit and healthy people around you choose to give up the excuses and just do it. I'm not saying it's easy for them, that it's easy for me as a fitness professional, or that it will be easy for you. But what it does mean is that you will love the feeling of having energy, feeling strong and healthy, going to fewer doctor's visits, not to mention feeling motivated and empowered to continue to push and get it done.
You Can Do This!
This blog was written by Ashley Duncan, Weight Loss Coordinator. To find out more about the NIFS bloggers, click here.