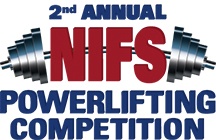 We are less than a month away from the Second NIFS Annual Powerlifting Competition, to be held here at NIFS on November 14. We have already exceeded last year's registration, so the competition will be stout and the energy in this building will be palpable.

There's nothing quite like the rush of competition, and I would argue that it is even greater in a sport like powerlifting. You against the weight is what it boils down to, and the accumulation of months of training and preparation come to the forefront for seconds to grasp victory. It's almost poetic.
If you're not the Hamlet type, here are 10 more reasons to compete in the NIFS 2015 Powerlifting Competition, coming at you David Letterman style!
10. To answer the age-old question: "Do you even lift, bro?"

9. A whole bunch of free snacks and coffee!
8. Show off your new weight belt and shoes!
7. Be an ATHLETE again, or for the first time!
6. Have someone load and re-rack your bar for you!
5. Test your physical and mental toughness, something you can't do playing

Halo

.
4. Collect a tremendous amount of high-5s!
3. Visit three bars (squat, bench, dead lift) without paying a cover charge!
2. The SWEET FREE T-SHIRT!
1. Finally take that leap and DARE to be GREAT!
So do it for the poetry or do it for the T-shirt, but just do it! Dare to be great and demonstrate to your fitness community (and more importantly, yourself) that you are strong, you are prepared, and you are an ATHLETE!
This year's competition is shaping up to be epic, and the 70 available slots are going quickly, so do not wait! Grab your slot today!
This blog was written by Tony Maloney, ACSM Certified Exercise Physiologist and Fitness Center Manager. To find out more about the NIFS bloggers, click here.