There comes a day when you wake up one morning and realize you're not 25 any longer. Usually, this happens when you're 50—or in other words, after 25 years of denial and of being totally oblivious to nature's less-than-subtle warnings: hair loss and color change, skin texture and wrinkles, where did that body fat come from, when did that thing (?) become so heavy to lift, and those stairs weren't that high last year. The mind feels young but the body fades in and out of pretend youth. The body is also willing until it gets tired or pain rises above the level of annoyance.
But there is hope: you can be cool without being young, but cool doesn't make you stronger, quicker, more flexible, thinner, and the owner of painless joints.
What Motivates Senior Fitness?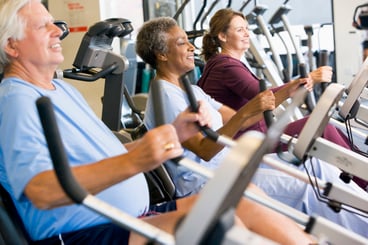 When you were younger, the goal of exercise was to look better naked. It seems reasonable, because younger people look better naked than old farts. Besides, older people have more pressing issues like serious joint pain, heart disease, diabetes, age-related weight gain, hormonal changes, and perhaps even the chilling shadow of cancer has visited them. No doubt that looking better and feeling better about yourself is really an important motivator to exercise, but they pale in comparison to these life-altering issues. Therefore, the motives for training of an aging active adult are more complex than a 25-year-old and must be recognized and honored when designing training programs.
Specific Health Concerns for Active Seniors
If you happen to be a fitness enthusiast over 50, these are things you need to be aware of.
Sarcopenia: An interesting word to say, but not so good to have, because it means a loss of muscle mass. Heavy-chain muscle fibers start dying out around age 30. Most professional athletes retire in their 30s because they have lost a step (in power and strength) and can no longer compete with younger athletes. Since most adults do not push their athletic genetic limits, they become aware of this loss of step in their 40s, or certainly by their 50s. This fiber loss is called sarcopenia. Unless there is some attempt to retain strength through formal strength training, this strength loss will continue at a ever-increasing and very noticeable rate. Common movement patterns—sit to stand, picking things up, pushing away and pulling back, pushing up and pulling down—will become increasingly more difficult as life quality decreases. Many people just give in to the process and call it "getting older." It doesn't have to be that way. Strength training can certainly slow it down.
Joint issues:

Connective tissue seems to injure more easily and take longer to heal. Tendonitis becomes an all-too-common answer to the question, "How are you feeling?" Dynamic joint mobility training helps regain joint range of motion and lubricate joint surfaces with synovial fluid for cartilage health. Older athletes have to allow time in the program design for something the young take for granted.

Slow recovery: I

t takes longer for the body to repair and to make new tissue. This seems to be related to changes at the DNA and RNA levels as we age; and of course, changes in hormonal levels further compound the problem. Knowing this, nutrition and rest are key for proper recovery. The aging active adult has very little margin for error. Without proper nutrition and rest, progress will stall and the likelihood for injury will increase.

Balanced training:

Cardio exercise is still important for overall health, but must be managed in such a way as to not interfere with the recovery for strength training, and not to add to the training volume to the point of over-training and adversely effecting the immune system. The body also does not respond well to being forced to adapt to opposing stimulus (cardio vs. strength). It gets confused as to what exactly it is being asked to do. How much cardio is very individual, but it is easy to err on the side of too much. Interval training may be an answer to those concerns by reducing the training time factor while still challenging the alactate, anaerobic, and aerobic substrates for improved conditioning.

Shared epiphany:

There is a common experience at this age that there is a price to be paid for all of the fitness and health-related issues you chose to ignore when you were younger. Pain, discomfort, illness, and excess body fat are the reasons for your body's "come to Jesus" meeting. Your body demands corrections, and your currency for payment is time and effort spent bringing the body back into balance. The aging active adult has been humbled enough by aging to be open to addressing these issues if the guidance they receive makes sense.
With the number of active aging adults increasing, both trainers and the older clients should understand the training needs and limitations of this age group in order to develop the best program designs that will effectively produce results and at the same time do no harm. So far, the fitness industry and fitness media have chosen to ignore the 800-pound gorilla by focusing on the 25- to 40-year-olds; but it is the aging active adults who have the greater need. They understand that the youth genie is not going back in the bottle, but that their life quality can be a whole lot better through proper training and nutrition.
In part 2 of this series, I talk more about the need for strength training at this age.
This blog was written by Rick Huse, CSCS, WKC Competition Coach, and originally appeared on his blog. To find out more about the NIFS bloggers, click here.