In the last blog, I discussed that the 40-plus age group had different training needs because of the effects of aging: loss of muscle strength fibers (sarcopenia), weakening of connective tissue with the resulting aches and pains and injuries, joint issues (arthritis and loss of range of motion), hormonal changes, weight gain (especially visceral fat), heart disease, and diabetes.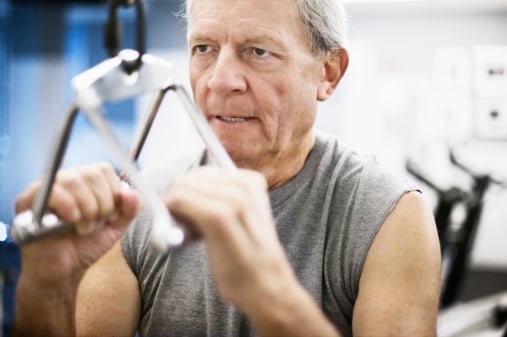 For many in this age group, other medical conditions seem to appear from out of nowhere. Theories for why range from genetics to reduction of stem cells, but the fact remains: unexpected conditions and diseases show up uninvited and certainly unwanted from about 45 and beyond. If you are in this age group and actively training, you need to know a lot more about your body, especially your age-related limitations.
A reminder for those training themselves: the ego is a great motivator for getting your butt off the couch, but it's an absolutely terrible coach. The ego will beat the crap out of you to feel good about itself without regard for what the body can recover from, short and long term. It actually believes in such silliness as "no pain, no gain" and other macho slogans, and the ego is the reason for most training injuries and setbacks. Don't get me wrong, I believe in training hard (which is a relative term), but I just don't believe in training stupid.
"A true professional knows what to do and when to stop doing it."
The Need for Strength
With that said, let's discuss the need for strength. Here's a story.
One of the leaders of the National Strength and Conditioning Association was recorded lecturing his graduating class in exercise science. He asked whether they would teach a 65-year-old woman, who had never weight trained, to do a barbell squat. The question was loaded: female, advanced age, no experience, and an athletic lift. As their professor, he was asking for a yes or no answer. Because they had been in his class all year, they knew if they answered the question incorrectly, he would nail them. So everyone sat in silence.
Finally, after what seemed like an eternity, he said. "Since you're not going to answer the question, I will do it for you. She has to stand up from a chair. It's the same movement pattern. We are going to work with her on a life skill and make her stronger in that pattern at the same time."
Oh, that's not what they expected. They were thinking leg press, leg extensions, and leg curls would be safer for a female of that age with no weight training experience than doing the squat. But he played the functional strength card and trumped their unstated answer.
But then he added, "I don't think you really get it, and I want to make sure you do. Imagine its 15 years later and she is now 80 years old in a nursing home and she can't get up from the toilet without assistance. She has lost her life independence. Did you do her any favor by not teaching her to do the squat?"
I didn't believe it possible, but a client of mine beat the professor's follow-up when she told me that her mother-in-law died in a nursing home six months prior to our conversation. She had gotten up in the middle of the night to use the bathroom. She had hit the assist button but no one saw it. The next morning, they found her dead on the bathroom floor. She had fallen off the toilet during the night and had broken her neck.
No one wants to be that 80-year-old woman. No one wants to spend their remaining years on this planet unable to move as a functioning independent adult, but if no effort is made to maintain strength fibers and joint range of motion, we'll certainly slide down to the lower levels of movement quality until we're stuck on the toilet for life.
A More Positive Thought
I don't like motivating through negative imagery, but sometimes you have to hit people over the head with a chair to get their attention. I'd rather discuss the joy of connecting with your body, finding out what an amazing vessel it is to experience and travel through life, and to feel the power that resides beneath the outer shell.
Our bodies were designed to move and to work, actually to work hard and for long periods of time. If not, we would have been eaten by big cats thousands of years ago. It is just within the last 100 years that we have made life so physically easy that we are now dying from lack of movement, especially from a lack of intense movement that tells our cells that we are important to our family, the tribe, and the village—important enough for the cells to make a concerted effort to keep us around.
Think of exercise like a prescription drug. It is a concentrated dose of intense activity used to communicate the message that we are, in fact, really important for something all the way down to the cellular level.
Contrary to the common belief about the role of cardio, strength is the fitness component that sets the foundation for all of the other forms of senior fitness activities. If your muscles are not strong enough to support basic movement patterns, there is no way you can do cardio exercise for very long before something breaks down, and then you have to stop while joints, connective tissue, and/or muscles have time to heal.
In this article, I wanted to make it clear why you need to incorporate some form of strength training into your fitness program design, and why functional training is an important consideration. In future blogs, I'll discuss actual strength training strategies and the rationale behind them. Don't be surprised if kettlebells come up frequently, and I promise to continue my relentless attack on training stupidity.
This blog was written by Rick Huse, CSCS, WKC Competition Coach. To find out more about the NIFS bloggers, click here.