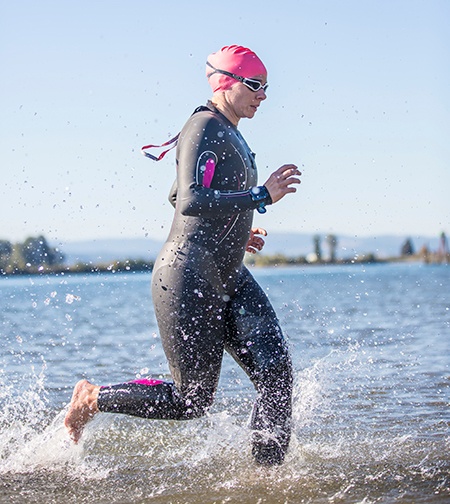 There are so many different types of races out there to challenge yourself with this summer. Maybe you are signed up for a Spartan Race, a trail run, or a half marathon; but have you ever considered giving a triathlon a shot? If you haven't done one before, I can say from first-hand experience: they are challenging, but very fun.
Triathlon is the combination of swimming, biking, and running. Now most of us would say, "Okay the last two don't sound too bad…but no way, I am not a good swimmer." One of the biggest deterrents keeping people from going out for a tri is the swim aspect. It is true that for most this is the most intimidating part, but just like the other two events, you just have to practice and get comfortable with it! Let's take a quick look at the three events.
Swim
The length of the tri you sign up for will determine the distance you have to swim. The swim portion is done in open water (Tri Indy does theirs in the downtown canal, and Go Girl has their swim at Eagle Creek Park). Most people are not able to train in open water, but get into the pool as much as you can before the race. Find a training plan to follow, making sure that you are getting both distance and speed work, as well as drills, in your swimming sessions. Also, if you do not have any experience in swimming, I would suggest getting a lesson or two to learn proper breathing, strokes, and efficiency in the water.
Bike
The bike portion of the triathlon is done on the road. And like the swim, the distance will depend on what race you sign up for. A common misconception is that you have to go out and spend $2,000 on a great road bike. When race day comes, you will see every shape and size of bikes! The important thing to remember is, before getting out on your bike, to make sure it's tuned up and in good shape to ride. Then practice running with it for the transitions, ride different distances and speeds, practice shifting gears, and just get comfortable using it.
Run
For many, next to swimming this may be one of the most challenging elements of the race. Just think you have already swum and biked, and now you have to get off and run! In the beginning your legs feel like jello and your body is telling you that you can't possibly put one foot in front of the other and keep going. But you can do it! During your training, get in some longer runs and be sure to practice some bike-then-run days as well.
***
Seems like it could be a lot, but thousands of people finish triathlons every year around the world. Make 2018 your year to scratch that off the list. There are training programs out there: get one, follow it, and finish that race!

ATTENTION WOMEN: If you are interested in completing the 2023
Go Girl Triathlon at Eagle Creek, we have a triathlon training program at NIFS!
Registration is happening now! Training starts June 27, 2023!

This blog was written by Amanda Bireline, Health Fitness Specialist. To find out more about the NIFS bloggers, click here.