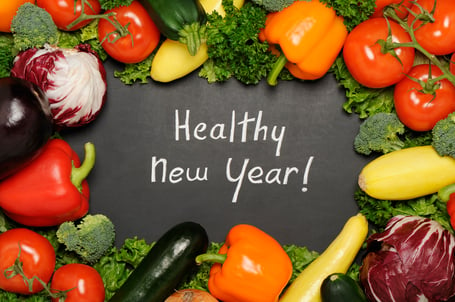 How many of us are guilty of making a New Year's resolution and then struggling to stick to it by the time February rolls around? Even with the best of intentions, most of us have trouble maintaining the changes that start off so strong on January 1st. Often these promises to ourselves are centered around our overall health and well-being.
As a dietitian, I see people's January nutrition goals come and go. What is the reason for this? Practice makes perfect! Recent research has shown it can take anywhere from 18 days to 254 days to form a new habit—66 days on average! We can't just jump into a marathon and expect to win. We have to take small steps to get to where we want to be.
The Top Resolutions for the New Year:
Lose Weight and Get Fit
If you just Google "Top 10 New Years Resolutions" you find that adults said "lose weight" and "eat healthier" come in at a tie for top resolutions heading into 2022—just in front of "getting fit" and "spend more time with family and friends." Other resolutions scoring high included "improve mental well-being," "improve social connections," "learn a new skill," and "travel more." Each of these resolutions comes across as somewhat daunting, right? Even as a dietitian, "eat healthier" is somewhat overwhelming to me! What exactly should you do to eat healthier and where do you start?
Let's make 2022 a great year! Instead of biting off more than you can chew, resolve to tackle a few smaller goals that will help you achieve a bigger goal down the road. Pick just one or two smaller actions to take and solidify those habits before moving on to the next step.
Steps to Keeping Your Healthy Eating Resolution
I've put together a few ideas on how to help keep that healthy nutrition resolution going strong throughout the year—check them out below!
This year, I resolve to
Eat dinner at home three times a week.
Eat dessert twice a week—instead of every night!
Split entrees with a friend or family member when out to eat.
Find an alternative to my usual favorite Frappuccino.
Carry a reusable water bottle and drink 64 oz of water daily.
Eat a piece of fruit at every meal.
Opt for a glass of wine only on the weekends.
Bring healthy snacks to work.
Create a healthy grocery shopping list and stick to the list.
Cut out red meats and processed meats (bacon, lunch meats, sausage).
Create a support system—they often have good ideas on how to manage family gatherings, restaurants, new foods to try, etc.
Make each Monday a Meatless Monday!
Cut out added sugars.
Fuel up with a healthy snack before a workout and recover with a healthy snack.
Get an air fryer and make your own "chips" and "fries" at home.
Recruit a workout buddy.
When going out to eat at your favorite chain restaurant, look up the menu and nutrition facts before you go and decide what you'll have before you arrive.
Don't skip meals, especially breakfast.
Go to bed an hour earlier than you usually would.
Try a new food every week. Swap chickpea pasta for your normal pasta, try using olive oil in place of butter for cooking, or sample a plant-based milk in place of heavy cream in your coffee.
Recreate your plate and make veggies and fruits the main component of your meals—second helpings are a must!
Start the day with a healthy breakfast: opt for a little protein with a carbohydrate, like oatmeal with peanut butter.
Skip the soda!
Write down the one or two actions from this list that you would like to tackle. And keep in mind, if you start working on those actions on January 1, you will have to actively think about this on a daily basis before it becomes habit—remember, 66 days! Keep in mind that you may need even more time than the other person who picks the exact same goals to get into that healthier habit. Move at your own pace. If something isn't working, ask for help. And persevere—when you slip up (we are all human), just hop right back into the swing of things. You've GOT THIS!
Happy Holidays!
This blog was written by Lindsey Hehman, MA, RD, CD. To learn more about the NIFS bloggers, click here.