Since the dawn of time (I've always wanted to start a sentence like that), humans have slept for a little while, and then were awakened by something or someone that told them it was time to start the day. We know now the huge roles that sleep plays in so many aspects of our health: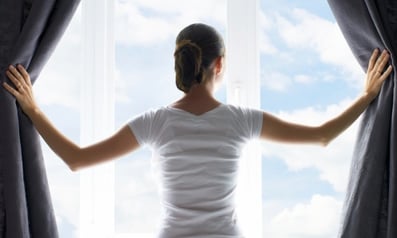 Physical recovery

Healthy hormonal environment

Stress regulator

Cognitive retention and memory

Appetite regulation
The list can go on and on. (For more reasons why sleep is essential to your overall health,

check out this article from Precision Nutrition

.) Bottom line is that we need ample and quality sleep to be at our best every day; I don't think anyone can argue against that. But there is a pretty important aspect of our daily ritual of rest and recovery that is not always worthy of the front page, and that is how you WAKE UP.
The Science Behind Sleeping and Waking
We have circadian rhythms that act as an internal clock of sorts, which usually run on roughly a 24-hour cycle. Researchers have identified that circadian rhythms can influence our sleep-wake cycle, and abnormal circadian rhythms have been associated with obesity, diabetes, depression, and other disorders.
Why am I telling you all this? Well, your circadian rhythms are produced by natural factors in your body, but can also be influenced by the environment. Light is the major cue influencing the rhythms that turn on or turn off genes that control your internal master clock. Having a normal, healthy circadian rhythm can be the difference between waking up ready to conquer the day or having to hit the snooze button a hundred times.
Using Light to Wake Up
So if light is one of our biggest cues to maintain a healthy circadian rhythm, use it! My beautiful wife gave me a gift on my birthday recently that I have found to be so helpful in waking up and feeling rested and ready to go. It's a Phillips Wake-up Light, and it allows you to wake up naturally with the warm glow of the sun-like light that radiates from this futuristic-looking alarm clock. I absolutely love it!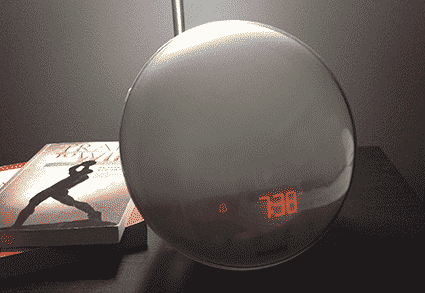 The light will begin to glow anywhere from 20 to 60 minutes prior to your set time to wake up (how hard you sleep will determine how much time you should have the light begin glowing). The light begins a reddish color to simulate the sun rising, and gradually becomes brighter and brighter until you wake up and turn it off. And if you were to sleep through the 20-minute light glow, you would be awakened by birds chirping.
I have definitely noticed a difference in my energy level when I wake up these days, as well as my attitude and mindset heading into a tough day. I was experiencing some not-so-positive reactions to my alarm clock, which really set me up for rough start to the day, which in turn affected me throughout the entire day. Now that I am waking up naturally, and not shot out of a cannon to the sound of the buzzer, the morning is much more pleasant and meaningful.
Other Benefits of Waking Up Naturally
Some other fantastic benefits of waking up naturally include the following:
Improved insulin regulation. This is important in managing body weight and body composition.
Improved parasympathetic response. Instead of waking up in a "fight or flight" sympathetic response, which will result in elevated resting heart rates affecting many other aspects of health, we stay in a calmer state, allowing the internal environment to adjust appropriately to stress.
Decreased muscle tone. I am not talking about losing muscle tissue. I am referring to "turning down" the tone of certain muscle groups that can be putting you into less-than-optimal body positions. For example (and one of the most common), toned-up lats will cause you to be in extension, which can lead to lower back pain. When we are calmer, and not so jacked up, we can allow the body to tone down when needed to improve positioning and movement patterns.
Better mood! Life is way too short to be miffed all the time, and it just causes problems in so many facets of our lives. Most of this bad mood is communicated nonverbally, which in most cases is so much stronger than anything you could say. Take my word for it, be happy in both your message and how you deliver it. This can be greatly improved if you feel good and not groggy, which started hours earlier with the whack of the snooze button.
I highly recommend implementing some sort of a natural wake-up process that works for you. Most of us have smartphones. There are plenty of apps out there that can do the same thing as the wake-up light I describe above. Many of the newer fitness trackers such as a FitBit can also be set to gradually wake you up. Give it a try and let me know what you think, but have a back-up just in case it doesn't work for you right away—don't be late to work on my account!
This blog was written by Tony Maloney, ACSM Certified Exercise Physiologist and Fitness Center Manager. To find out more about the NIFS bloggers, click here.