My version of a famous Indian parable.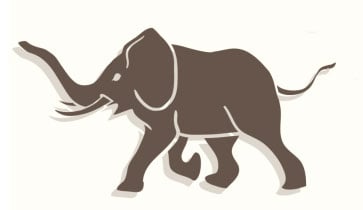 Three blind men, who had been blind for life and who had never experienced an elephant, were brought into an area where an elephant was standing. They were placed within arm's reach of the animal and were allowed to explore the elephant by just touching what was within their reach. They were not allowed to step closer or move side to side.
One subject was placed at the tail, the second along the side, and the third subject at the front. From what they were able to touch, their task was to describe what kind of an animal they were experiencing.
The parable has been used to show with humor how humans are quite willing to reach conclusions based on very limited information, and this is where my version takes a fitness twist.
The subject at the rear of the elephant reached out into the space in front of him. His arms moved cautiously like someone entering a dark room, groping for a light switch. Then it happened: the back of his hand bumped into what seemed to be a heavy, flesh-covered rope. He was able to grab this rope and realized it was hanging down from somewhere above his head. His head snapped back and he quickly jerked his hands away as if he had just touched a hot stove.
Excitedly, he blurted out, "This is a big snake! I just touched the tail! He must be resting on a tree limb. Big snake. Big snake." His nostrils flared as a very strong odor raced into his head. Something had just pooped, and he hoped that he wasn't responsible.
The subject along the elephant's side reached forward as directed and found a massive flesh wall, and from where he stood, it seemed endless. And when he pushed against it with all of his might, it didn't move.
He pulled his hands away, and with a confused look on his face he pronounced, "I don't know what this is. All I know is that it's big, and from where I stand I don't know how big. Without knowing the height and length and the structure of the head and tail, I would be just guessing. I'm sorry, I can't help you."
The last subject standing at the front of the elephant had a similar experience. His searching hands found a large tube that was too big to be a tail. What could it be? As his hand moved sideways from his new find, he hit a very hard object that had a soft point and seemed to recede backward toward the animal. He cocked his head like a dog searching for meaning in his master's words as he reached out again to touch the tube and then the soft-pointed hard bone.
He dropped his head in deep thought. After several seconds he calmly stated, "I have no idea. The large tube and pointy bone are certainly very interesting, but I need a lot more information before I can even guess." He, too, apologized for not being of more help.
What's the Point?
The subjects at the front and side of the elephant would have made good scientists. They clearly understood that from their very limited data, there was no basis for them to predict the totality of the animal before them, and any attempt to do so would be irresponsible.
However, the subject at the tail of the elephant represents bad science and those willing to use bad science to promote their own agenda. With more investigation, the large snake's tail hanging from a tree limb becomes something quite different: an elephant.
Much of what we in the fitness and nutrition world think we know today is a result of bad science. Ideas are promoted as truth with the intent to profit from a motivated and yet ill-informed public. So question the diet or workout program you're about to embark upon. Is it a real elephant or just an imaginary snake? Hint: until proven otherwise, it is closer to snake than elephant.
Research Your Workouts and Diets Before Starting
It is appropriate that the subject at the rear of the elephant is standing in elephant poop. What they are promoting is worth just that. By doing a little more research regarding the workout or diet you're considering, asking probing questions and reading opposing views, you can avoid missing the elephant and finding yourself holding just an imaginary snake tail while standing in the smelly outcome of following bad science.
No one wants to waste time, set themselves up for injury, or follow a diet that is detrimental to their health, but in the fitness world it happens all the time, albeit with good intentions. Scientific research is slowly chipping away at the knowledge of what we are and how we function. We have come a long way in the last 50 years and we'll certainly discover more of the elephant as time goes by.
So I advise my clients that the value of any fitness/nutrition idea depends on who you are, the nature of your goals, and the strength of the research behind the ideas that are attracting them. I also want them to be open-minded to and aware of opposing views so that their fitness/health knowledge continues to grow. Why? Because in the end, they are truly responsible for their own health and fitness, and quality information will determine the outcome.
What elephant? It's what you are seeking.
You can get started researching healthy eating here on the NIFS blog. Learn more about fitness and workouts here.
This blog was written by Rick Huse, NIFS Health Fitness Specialist. To find out more about Rick and the other NIFS bloggers, click here.
Ready to get started the right way? Start with a free fitness assessment by a NIFS Fitness Specialist.