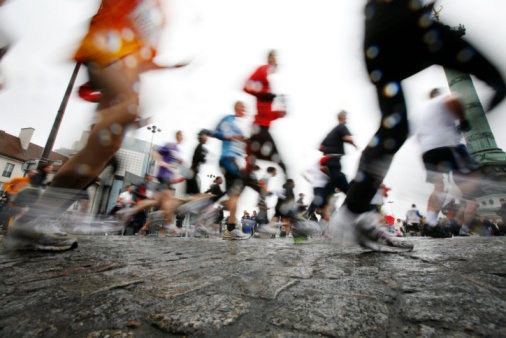 I am not someone who is really into New Year's resolutions. I prefer to use the term "goal" when thinking about next year. When looking ahead, everyone is always trying to make some sort of health and fitness resolution (which for some is awesome and works), but we all know that come the end of February to mid-March, many have fallen off the bandwagon already.
But I feel that when we have certain goals in mind, we typically tend to stick to them more. So, if you have on your bucket list or Yearly 2016 Goals to complete a half marathon, let NIFS Mini-Marathon Training Program help keep you on track!
Running is one of the most popular fitness activities these days. With thousands of races going on around the nation each year, popularity and interest continue to grow. 2015 is killing it with weekly themed races around every corner. If you are not a runner and your 2016 goal is to start running, begin with a 5K; or if you are an experienced runner, work to increase your time in a race, or increase the distance of a run.
Top Tips for New Runners
If you are a new runner, there are some great tips put out by Runner's World to help you get started. Here are the top 10 things (with a little personal addition from me) they suggest to help:
Buy the right pair of running shoes. It's absolutely hands-down worth your investment!
Be patient. Don't freak out about getting a certain time; be patient and focus on completing the race instead of trying to set a pace that might be impossible to complete.
Don't forget rest days. Rest is often neglected, but it's one of the most important aspects of staying healthy during training.

Read this earlier blog

on the NIFS page about the importance of recovery.
Join a running group. This helps to keep you accountable and committed to your training plan.
Make it a habit, even if it's just a few minutes a day. The toughest part of any exercise routine is to stay committed. Do your best to schedule it into your day.
Build your distance gradually. If your goal is 3 miles and you don't currently run, take your time to build to 3 miles—it's a process!
Mix in some things other than running. Running exclusively can have the the opposite of the effect you want and leads to injury. Be sure to cross-train as well as do some strength training.
Make goals that are achievable. You want to be sure to set goals that you can reach and be successful at.
TIME TO TAKE ACTION: Join the NIFS Mini-Marathon Training Program
This program is geared to help both members of NIFS and non-members complete their 5K or half marathon. Program participants are given a specific 14-week training program to follow, which will prepare you for the Mini, the Geist Half Marathon, or the Carmel Half Marathon or a combination of the races. The program is for people of all levels: walkers, joggers, and runners!
Each Wednesday night during the 14-week program, runners will complete their long-distance run with a group. There will be pace groups to help you stay on track for your goal time. Recovery snacks and drinks are provided at the end of each Wednesday training session.
REGISTER NOW! for the 2016 NIFS Mini-Marathon Training Program. We would love to have you join us!
This blog was written by Amanda Bireline, Fitness Center Manager. To find out more about the NIFS bloggers, click here.