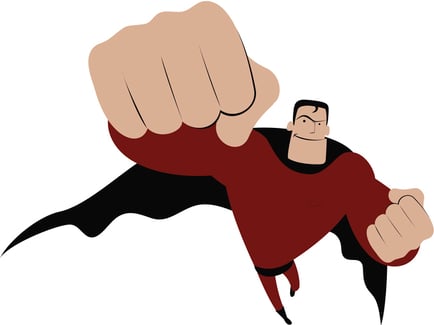 I was recently chatting with my brother Tim about work stuff in a conversation filled with multiple shop-talk topics. You see, he is an assistant chief of a pretty large fire department, and we share common goals and challenges when it comes to managing a crew. Needless to say, our conversations can get quite lively and the ideas are always abundant.
Enter the Wood Chipper: Getting Things Done Fast
During this particular conversation he used a phrase that I absolutely loved (and actually told him I will be stealing): he referred to someone he works with as a "Wood Chipper." If you are like me, you immediately imagine a large piece of wood being thrown into a box filled with super sharp blades and being spit out the other end in a different form—in this case, a million pieces of shredded wood.
Mind you, Tim was using "wood chipper" as a compliment about this person's ability to get things done, and quickly. The analogy of taking on a task (feeding the wood chipper) and spitting out a completed product quickly, and to the specs that you are given, is a great strategy in being successful in anything that you do. Working at a task with the voracity of a well-oiled wood chipper means that you don't delay and you take the necessary steps to complete the task using the resources (blades) you have available to you.
5 Strategies to Help Earn the Nickname "The Wood Chipper"
Do you want to be known for speed and efficiency in your life? Here are five strategies for tearing through tasks like a machine.
Focus on the most important thing and the most important time: Not all tasks are created equal, and some carry more weight than others. The best first step is focusing on the most important thing that will lead to success in all other steps, or even eliminate them as unnecessary. This prioritization takes some skill to harness, but just like any skill you can train it by making it a habit. Start by asking yourself often "what is the most important thing I can do right now?" Laser focus on the most important thing and the most important time!
Tackle the big stuff first: The stuff that scares you should be done first. Don't get bogged down by the small, tedious tasks that make you feel busy. Being busy is not the same as being productive. Put most of your energy into the big-ticket items right away and you might find that many of those smaller tasks get completed as well, or don't even matter.
Say "No" more: In their best-selling book and popular website, The One Thing, authors Gary Keller and Jay Papasan discuss the power of the ability to say no and how it leads to greater success. Do you say "yes" to not feel bad? Does saying "yes" take away from family and friends, personal wellness, and rest? We must break the habit of saying "yes" to everything and only saying "yes" to the most important thing. Trust me, it's okay. Because the bottom line is that not creating boundaries will only lead to more obstacles.
Stop trying to multitask: If you agree with the first of these five strategies (not all things are created equal), the idea of multitasking should seem goofy. I believe the old saying goes, "A man who chases two rabbits (it could be bunnies) catches neither." Simply put, if you attempt to put in equal amounts of effort for all of your "things" at the same time, the result will be equally insufficient. Give all your focus to one thing at a time, complete it, then move on. This is science, people. Research has shown that humans can't focus on more than one thing at a time, and those who multitask are shown to be less productive. What is the most important thing? Focus on that one thing, and then move on.
Get some sleep: This seems a bit out of place considering the other four strategies listed here, but it plays, I think, just as big a role. Create a habit of getting at least 7 to 8 hours a night so that you are fresh to make that decision about what is the most important thing to be focusing on. We have covered the importance of sleep in previous posts, so simply put, IT'S SUPER IMPORTANT! Sleep can effect so many functions we rely on, so create the habit of getting more sleep. Here is one strategy to help create a successful sleep habit: turn off the electronics early and go lie down!
Put a few of these strategies into place and start "wood chipping" your way to success. Focus on one thing, the most important thing, at one time and see how productive you become.
This blog was written by Tony Maloney, ACSM Certified Exercise Physiologist and Fitness Center Manager. To find out more about the NIFS bloggers, click here.