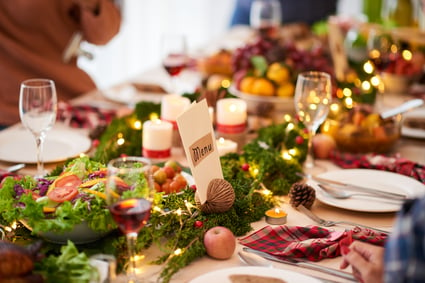 'Tis the season for swapping Christmas cookies, candy bowls, Hanukah dinners, holiday parties, and New Year's Eve libations. We'll take this month to refocus on a 10 simple ways to keep your body properly nourished and healthy this holiday season while keeping in mind that it is okay and certainly encouraged to partake in the holiday season festivities. New Year's Resolutions are a great time to start new habits, but why not get a head start?
Embrace seasonal foods. Your favorite strawberries may now be upwards of $5 for a small container, but December is a great time to try out pomegranate and pears. Root veggies, squash, and kale are also easy on the budget and packed with nutrients. (See some recipes here.)
Fit in a body-weight workout. If you can't make it to the gym, create a circuit at home, or take along some simple workout equipment for travel when visiting friends and family. Head out for an unofficial 5K run, run up and down your stairs, take the dog for a snowy walk, or take commercial breaks to a new level by doing squats and push-ups for the entire break. Alternatively, make a plan to carve out just 15–30 minutes per day to get in a walk around the neighborhood—no matter what the weather might bring!
Start your day off right with breakfast. Front-load your nutrition at the beginning of the day—often the easiest meal to focus on and one that can stay consistently healthy. Oatmeal, yogurt with fruit and nuts, egg (or tofu) scramble, and smoothies are great "go-to" meals.
Try the Plate Method. While you fill your plate with holiday favorites like green bean casserole or mashed potatoes (made with a generous portion of heavy cream and butter), make sure that half of your plate always has some type of vegetable on it. Try roasted carrots, sweet potatoes, asparagus, or green beans for easy sides.
Observe bedtime. Try and stick to a normal sleep routine to give yourself energy to tackle your holiday parties, keep your focus on your health goals, and avoid snacking at 3 a.m.
Have a game plan. What was your biggest obstacle the year before in sticking to your goals? Holiday parties? Make sure to take your own healthier sides. Are there Christmas cookies on the counter and you're grabbing one every time you walk by? Make a small batch this year and plan to keep them out of sight. Also try portioning out ahead of time. Wrap up each cookie and label it with the day of the week you plan to eat it.
Give healthy stocking stuffers. Give the gift of healthy eating—stuff kids' stockings with items like clementines or Cuties, nuts, and popcorn instead of Reese's Cups, M&M's, or fun-size chocolate bars.
Focus on the moments. Put down your phone at mealtimes and any "down time" you might have. Put together a puzzle, go for a relaxing walk, read a book, and make conversation at mealtimes.
Stay hydrated. 8-12 cups of water/day is recommended. Carry a water bottle around with you—it's easy to forget to hydrate during the cold months, but it's crucial to helping control those cravings and to keep your body running in tip-top shape.
Pick a habit. Pick one specific habit to choose and one to lose! Focus on a specific goal. Instead of the more general "lose 10 pounds," focus on action steps to get there like "Work out every Monday, Wednesday, and Friday for 30 minutes at the gym" or "Plan to make at least HALF of lunch and dinner at every meal a type of vegetable." Instead of cutting out sweets completely, make a plan that says, "ice cream happens on Friday nights only." Or focus on physical activity habits, screen time habits, etc.
This blog was written by Lindsey Hehman, MA, RD, CD. To learn more about the NIFS bloggers, click here.