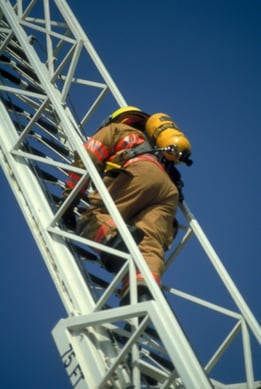 For just shy of a year now, NIFS has had the honor and privilege of assisting in the training of the Indianapolis Fire Department's new Firefighter Recruit Class. We are currently wrapping up the second recruit class (Recruit Class #81, actually) trained here at NIFS.
To have the opportunity to work with such a distinguished organization, rich with history and a tradition in excellence, has been a true career highlight for me. Having two brothers who serve their communities as firefighters, I have been pretty close to this occupation and its phenomenal individuals for some time now. The respect and admiration I have for them, to do what they do and keep us safe, are immeasurable.
These soon-to-be firefighters take part in over 20 weeks of training to ready them to assume the huge responsibility of being a lifesaver and community protector. In essence, it's "hero training." Physical Training (PT) is only one aspect of the academy; combined with EMS and Fire School, these recruits battle long days of both physical and mental demands.
The Importance of Functional Movement
We take the training of these individuals very seriously with a main focus of movement first, performance second. We use the Functional Movement Screen (FMS) to guide our programming because the better the mover, the better the firefighter. I recently shared a great research article in which the FMS was used to determine the injury rates of first responders (mainly firefighters), and the findings are very telling. To sum it up, if you score a 14 or lower on the FMS, your injury risk skyrockets. We utilize the screen and corrective exercises associated with basic movement patterns to enhance the recruit's movement with the hopes of increasing injury prevention, while at the same time improving their performance. Even heroes have some dysfunction.
Firefighters have one of the most physically demanding occupations on the planet. And it doesn't just revolve around a big strength component; a firefighter's aerobic capacity must be high as well. A firefighter may go from a position of rest into a full sprint in a moment's notice and then breathe bottled air while running into burning buildings and homes and dragging victims from wreckage. This demands a high level of aerobic capacity, a level only gained through training. Our job as coaches is to ensure that recruits improve absolute strength, anaerobic and aerobic fitness, while always improving their movement.
A Typical Workout
So what does a typical training session for a firefighter look like? Check out this video to get a little taste of some of the best movements and exercises we use to help prepare these tactical athletes. Feeling confident that you can handle these exercises? Here is your chance to try it for yourself, and experience a workout straight from the programming page! Complete the workout that follows and let us know how it went. Do you have what it takes to battle this firefighting workout inferno?
You will need a set of heavy kettlebells, a super band attached to a pull-up station for a nifty exercise I learned from Captain Jordan Ponder of Firefighter Performance Training, 1 heavy sandbag and 1 lighter bag, and a sled with a medium to heavy load. Complete the following round of exercises as many times as you can in 20 minutes. Want a little extra work? Wear a weighted vest or simply add more time.
Crawling x40 meters

Farmer Carry x40 meters

Sandbag Firefighter Clean x10

Pipe Pull x10 each side

Sandbag Stair Climb x5 flights

Over-the-shoulder sled drag x40 meters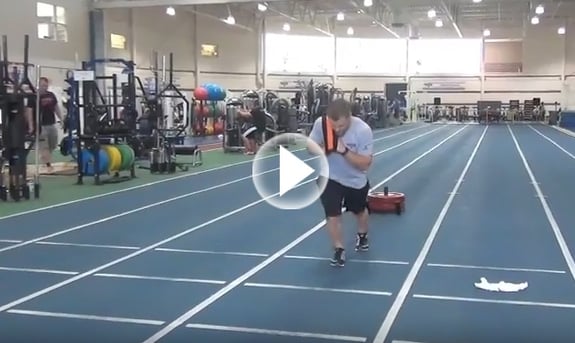 The physical and mental demands that are placed on these recruits during their training, and even more so when they are in the field, are mammoth. But with great training from their officers and their NIFS coaching crew, I am pretty confident that they will be ready to tackle anything. I can't describe the respect I have for those who sign up to be our everyday heroes. I can only work as hard as I can to help prepare these phenomenal individuals for the battles that await them, and provide the city of Indianapolis with their superheroes!
This blog was written by Tony Maloney, ACSM Certified Exercise Physiologist and Fitness Center Manager. To find out more about the NIFS bloggers, click here.